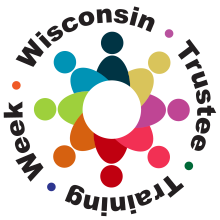 Join others from around the state for a week of lunchtime webinars from August 22-26!
Trustee Essentials: A Handbook for Wisconsin Public Library Trustees
Prepared by the Division for Libraries and Technology with the assistance of the Wisconsin Public Library Trustee Handbook Revision Task Force in 2002; revised in 2012, 2015, and 2016. Click here to view the manual online.
BOARD OF TRUSTEES
Updated June 16, 2022
Annette Smith – President – Milton Public Library Board Member
Bill Wilson – Rock County Supervisor
Stephen Brace – Hedberg Public Library Board Member
Eloise Eager – Vice President – Eager Free Public Public Library Board Member
Chris Cullen – Rock County Supervisor
Jose Carrillo, Member at Large
Sherry Blakeley, Beloit Public Library Board Member
Ex-officio members
Rich Bostwick, Chair, Rock County Board Supervisor
Steven Platteter, Director, Arrowhead Library System
Nick Dimassis, Director, Beloit Public Library

Sarah Strunz, Director, Orfordville Public Library