Monthly Memo Newsletter | October  2021
ARROWHEAD LIBRARY SYSTEM NEWS
Monthly Circulation Statistics
Total Circulations in September 2021
Total Circulations in September 2021
Clinton Public Library Teams Up with Bridging Generations
Submitted by Mary Ann Inman. Photos by Teresa Vicars.
Clinton Public Library hosted morning and afternoon Soda Can Cats & Dogs workshops on October 16. Library Director Joseph Langer, Instructor Teresa Vicars, and Assistant Oliver Melson, a student at Clinton High School, played an important role.
One artist reception was held on October 22 to celebrate morning both art-making sessions. The library exhibit runs through the end of October. All children received a ribbon and a certificate of awesomeness. Three artists received merit awards and an opportunity to exhibit at the Association of Wisconsin's Annual State Exhibit in Wausau in July and August 2022.
Many volunteers helped Mary Ann Inman coordinate Bridging Generations art-making, exhibit and reception for children were ages five through 12 years. The program was a collaborative effort by Clinton Public Library, the Association of Wisconsin Artists and Friends of Clinton Public Library.
Children's Art Programs are coordinated by the Association of Wisconsin artists in multiple locations throughout Wisconsin. For more information about Bridging Generations contact Mary Ann Inman at pastpresident@wiscartits.org.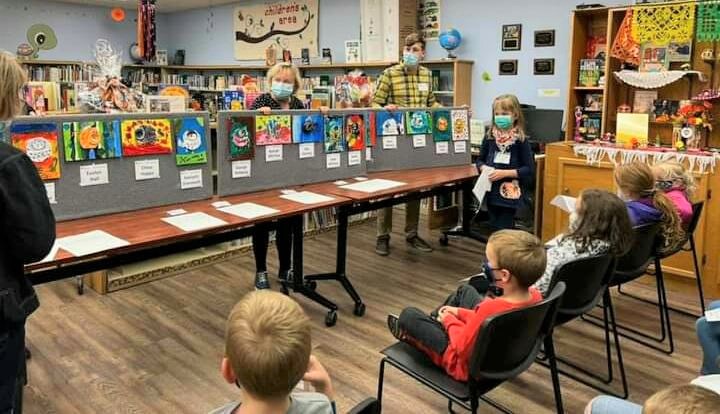 Standing from L-R: Mary Ann Inman, Instructor Teresa Vicars, Library Director Joseph Langer and Artist Hattie Erickson at the Bridging Generations Artists' reception.  Photo by Assistant Oliver Melson
Children advancing to the Association of Wisconsin Artist Annual State Conference in July and August 2022:
First, I thought a lot about design. Next, I got paint. I chose red, green and tan automatically. I got white and black. As I painted, I came up with a cool (to me) pattern. The stripes on the paws are pink boots with a green rim. Last, I painted the spots on my dog. Her name is Spots. I have no pets at home and am moving.
My favorite cats are orange. The stripes are blue, green, white and black.
My cat's name is Cutey.  And Cutey is a good girl. She is my cat. I like Cutey.
End of Support for 1000 Books App
Bridges Library System in Waukesha, Wisconsin (formerly Waukesha County Federated Library System) has made the decision to sunset, or retire, the 1000 Books Before Kindergarten app in the iTunes and Google Play stores effective December 31, 2021. This means that the app will no longer be available to download, and support for the app will cease. You can continue to use the app through December 31, 2021.
Current app users have access to the app to download book records now through the end of 2021. Users are encourage you to download these reading records as a keepsake.
If you have any questions, please do not hesitate to reach out to Angela Meyers at (262) 896-8245 or ameyers@bridgeslibrarysystem.org.
Arrowhead Library System has a 1,000 Books App in the works. All the libraries in the SHARE Consortium (Arrowhead LS, Kenosha LS, Lakeshores LS) will have the option to use. It is expected early in 2022.
To download book records, follow these steps: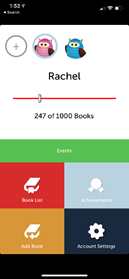 Step 1
Open the 1000 Books Before Kindergarten app and tap 'Book List'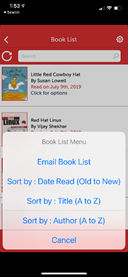 Step 2-3
Tap settings wheel on the top right.
Tap 'Email Book List'.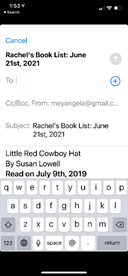 Step 4
An email message will generate with the book list and will send a copy to the email address that you used to sign up for the app account. You can add multiple email addresses. Click Send. You will be able to retrieve the message from your email inbox to save the book record or print and keep for posterity. 
Order Free Printed Materials for Wisconsin's Digital Library
We are excited to share that printed promotional materials for Wisconsin's Digital Library are now available to you with free printing and shipping! Thanks to the hard work of the Social Media Committee, and the printing services of the Outagamie Waupaca Library System, we have a variety of flyers and posters available, designed to be displayed at local businesses and in waiting rooms of all kinds. Business cards for Wisconsin's Digital Library are also available!
To order printed materials, please use this order form.
In addition, the digital files for all these designs are available via the WPLC website for you to print out for whatever purposes you need.
Please note, OWLS offices will be moving after the new year and printing services will be unavailable for a brief time during that move.
Please contact wplc-info@wils.org with any questions.
Register Now: Library Marketing Plan Workshop
Friday, November 12 from 9:30 am – 1:30 pm
This online workshop is open to any library interested in creating a library marketing plan. This online workshop is worth 3 contact hours for public library certification.
9:30 – 11:30 AM: Creating a Library Marketing Plan
Marketing Maven Kathy Dempsey will walk through her "Cycle of True Marketing" and cover the detailed sections in creating a library marketing plan. She will discuss first steps of the plan, audiences to target, how to create a plan budget, and more.
11:30 – 12 PM: Lunch Break
12 – 12:30 PM: Mini-Grant Process
Libraries selected as mini-grant recipients will hear more about the grant process, deadlines, processes for reimbursement and support in developing their marketing plans.
12:30 – 1:30 PM: Thoughts, Tips and Questions with Angela Hursh, Senior Engagement Consultant, NoveList
Author of the blog, SuperLibraryMarketing.com, and host of the YouTube series, The Library Marketing Show, Angela Hursh will share thoughts, tips and things to consider as libraries work on their marketing plans. She will also cover best practices for barriers and challenges.
Objectives:
Discover the importance of a library marketing plan and why it can save the library time and money.
Create a marketing plan calendar and budget.
Suggested Homework Ahead of the Workshop
If able, please review the marketing plan template and introductory webinar from 2020 ahead of this workshop.
Marketing Plan Template – Access the Marketing Plan Template
Based on Kathy Dempsey's "Cycle of True Marketing," a state-wide public library system marketing cohort has drafted a marketing plan template that any library of any size can model and adapt. The template includes:
A customizable marketing framework that can be adapted to suit a library's unique needs and community
A sample marketing plan, budget, and calendar guides
Links to resources that expand on the information presented
Webinar Recording Introducing the Template – February 13, 2020
For questions about this plan, contact:
Jamie Matczak, WVLS, jmatczak@wvls.org, (920) 455-0668
Mark Ibach, SCLS, mibach@scls.info, (608) 246-5612
Chad Glamann, OWLS, cglamann@owlsweb.org, (920) 832-4607
Lori Baumgart, NFLS, lbaumgart@nflsoffice.org, (920) 710-6010
Thank-you to the approximately 70 libraries that submitted applications for the Marketing Plan Mini-Grant. The grant recipients are: 
Here is the list of recipients: 
Amery Area Public Library 
Baldwin Public Library 
Clinton Public Library
DeSoto Public Library 
E.D. Locke Public Library (McFarland) 
Fond du Lac Public Library
Kaukauna Public Library
LaCrosse County Library
Lake Geneva Public Library
Menomonee Falls Public Library
Mercer Public Library
Mukwonago Community Library 
Oscar Grady Public Library (Saukville)
Rhinelander Area District Library
Verona Public Library
There's Still Time to Register for the 2021 WLA Annual Conference

Tuesday, November 16 – Friday, November 19, 2021Hyatt
Regency & KI Convention Center in Green Bay
333 Main St, Green Bay, WI 54301
COVID-19 SAFETY PROCEDURES
The WLA Conference Committee is pleased to confirm that the 2021 WLA Annual Conference will be held in person at the Hyatt Regency and KI Convention Center in Green Bay.
The safety and wellbeing of guests and colleagues is always a priority at the Hyatt Regency and KI Convention Center. Several precautionary measures have been implemented, including:
Masks required in all public areas of the hotel.
Round tables, such as those for luncheons, seat only six per table.
Breakout sessions set theater-style have a three-foot distance between each chair.
While masks are optional in the contracted meeting rooms, conference attendees are strongly encouraged to wear a mask at all times unless actively eating or drinking.
For additional information please visit https://www.hyatt.com/info/care-and-cleanliness-americas
Top 5 Reasons to Attend WLA 2021
5) To explore the Exhibit Hall: the central hub of the conference!
Grab a BINGO card and visit with vendors to see what's trending in libraries, win some prizes, indulge in some snacks, connect with friends and colleagues.
4) To hear many speakers and meet a variety of authors.
You'll even have a chance to get your hands on signed copies of their works.
3) To revel in camaraderie among colleagues, mentors, and friends.
2) To attend breakout sessions that will leave you feeling full of knowledge, excited to move forward with the ideas you have gained.
1) To show your support of our awesome Wisconsin Library Association!
NEA Big Read Announces Next Grant Opportunity
National Endowment for the Arts BIG READ. Apply by January 26, 2022. Stacked books. The National Endowment for the Arts (NEA) Big Read will feature 15 titles for 2022–2023 programming, with books that represent a diverse range of contemporary themes, voices, and perspectives. A partnership with Arts Midwest, the NEA Big Read supports community reading programs held around the country, each designed around a single NEA Big Read book selection, with the goal of inspiring meaningful conversations, artistic responses, and new discoveries and connections in each community. Visit Arts Midwest's
website
for complete grant guidelines and to apply. Matching grants range from $5,000 to $20,000. The deadline for applications is Jan. 26, 2022.
Join the free webinar, All About the NEA Big Read Books, on Nov. 16, 2021, at 11:00 AM Central for a discussion about the 15 books that are a part of the NEA Big Read for 2022–2023, including insights from the authors.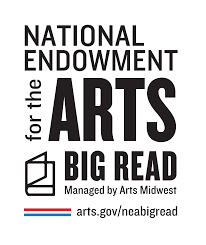 Inaugural CSLP Summer Symposium Registration Open
Please Collaborative Summer Library Program (CSLP) for its first Summer Symposium! Full details can be found here: https://www.cslpreads.org/summer-symposium/
Who is this conference for? All library staff that are interested in summer programming.
Where is the conference? Virtually anywhere with an internet connection.
When is the conference? Thursday December 2, 2021 ~ 11:30 am – 4:30 pm (EST)
How much is the registration fee? FREE!!!!
What is on the horizon for CSLP?
2022: Theme/Oceanography; Slogan/"Oceans of Possibilities" Artist/Sophie Blackall