Monthly Memo Newsletter | July 2021
ARROWHEAD LIBRARY SYSTEM NEWS
Monthly Circulation Statistics
Total Circulations in June 2021
Traditional: 81,461

84.2%

84.2%

OverDrive/Libby: 11,095

11.5%

11.5%

Hoopla Digital: 4,170

4.3%

4.3%
Youth Art Exhibit & Workshop held at Clinton Public Library
By Mary Ann Inman
The year 2004 marked the 50th year for the Association of Wisconsin Artists (AWA). To celebrate, the nonprofit held the first "Bridging Generations" Youth Exhibit in Prairie du Sac at the River Arts Center for children ages 5 through 12. It was a huge success and it was decided to annually continue the exhibit. Exhibits and workshops have been held in Middleton, Milton, Madison, Mineral Point, Verona, Platteville, Janesville, Oconomowoc, Brookfield, Whitewater and Clinton.
Bridging Generations Clinton 2021 is a collaborative project co-sponsored by the Clinton Public Library at 214 Mill St, the Association of Wisconsin Artists, and the Stateline Community Foundation. Bridging Generations has three purposes: (1) artmaking, (2) exhibition, and (3) artists' reception.
Twenty children attended the artmaking workshop on July 27 which included Garrett, Kelby, and Evan Schneider; Kaitalyn Perez; Emma Martin; Stanley and George Rehberg; Myloh Capes; Emma Watkins; Titus and Gus Miethke; Gideon and Benaiah Langer; Willow Wales; Jelena Glisic; William Uffenbeck, Adelyn Gerth; and Nolan, Maryana, and Olivia Troxel who were unable to exhibit due to moving out of State. Their art will be displayed at the library for the month of August.
Adult mentors who made this program successful included Rita Carpenter, Nancy McKinnon, and Oliver Melson. The mentors demonstrated acrylic paint pouring on the circular planets and assisted the children as they created. Chris Vance and Heather Schneider aided with check-in and fitted the children with smocks. Suzette, Rudy and Lily Nunez helped children at the rock marbling station. Madi Miethke and Mary Ann Inman facilitated at the artists' statement and self-portrait station. A sincere thank you to parents who offered assistance, to those who attended the artist opening on July 30, and to Library Director Joseph Langer for hosting. It takes a village to encourage visual art making!
Art groups, organizations, or individuals who would like to sponsor a similar event can apply for AWA funding at https://wiscartists.wildapricot.org. Applications should be submitted at least 90 days in advance. Contact Bridging Generations Coordinator Rita Carpenter at bridginggenerations@wiscartists.org.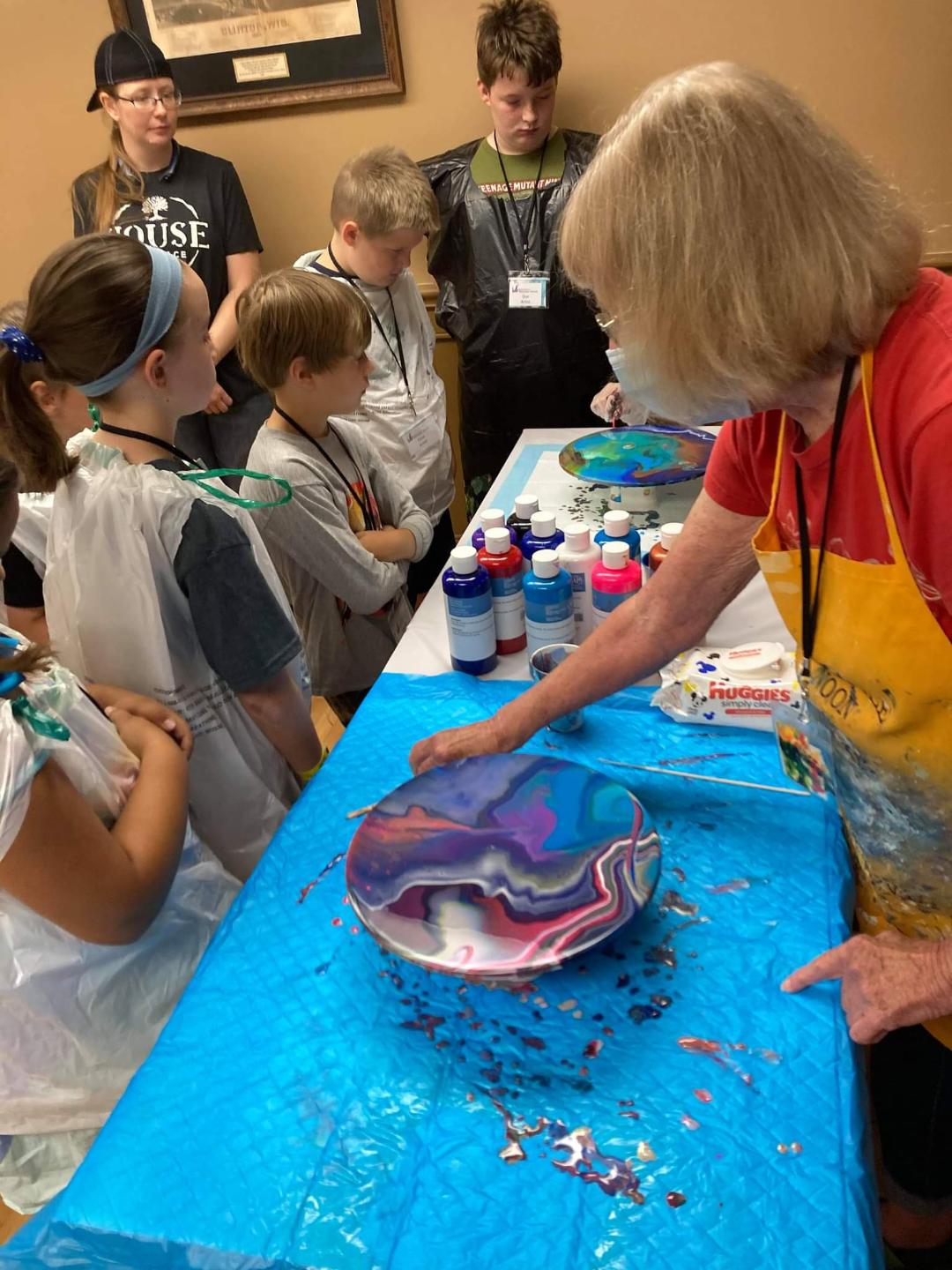 Nancy McKinnon demonstrated how to pour acrylic paint.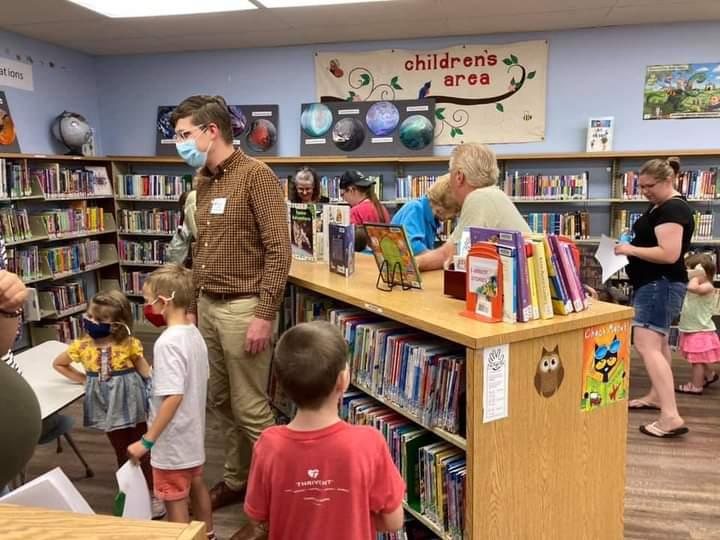 Bridging Generation Artists' Reception was held on July 30. The library exhibit will be displayed through August 31.
Register now for Trustee Training Week 2021
Registration is now open for Wisconsin Trustee Training Week 2021, which will be held Aug. 23-27. There will be one webinar each day from noon to 1 p.m. on a topic that's relevant to public library boards, friends, and trustees. Webinars are available free of charge, and are open to anyone.
You must register for each webinar individually at www.wistrusteetraining.com. More information is also available at that link, and you can also access recordings from the 2015-20 webinars.
Trustee Training Week is coordinated by the South Central Library System. This year, Trustee Training Week is supported by the Wisconsin Department of Public Instruction (DPI), Public LIbrary Development Team, with funding support from the Institute of Museum and Library Services (IMLS).
Live Webinar
HELP!: The correct way for staff to provide backup in crisis

Some of the issues covered:
• The four problems with the way most people do backup.
• Exactly how to provide backup correctly.
• How to use backup to train new staff.
When: Thursday, August 12 at 1:00 PM Central time (2 PM Eastern, noon Mountain, 11 AM Pacific)
Length: 1 Hour
Pre-Registration Required: Register here!
Learn from experts without having to travel! Tech Days 2021 is a two-day webinar series.
Wednesday, September 15
10:00 – 11:30am Digital First: All Library Planning Starts with Digital
12:00 – 12:30pm Canva Demo and Q&A
1:00 – 2:30pm Free Online Tools to Increase Your Workflow & Productivity
Thursday, September 16
10:00 – 11:30am Video Production: Tools, Tips and Tricks
12:00 – 12:30pm Canva Demo and Q&A
1:00 – 2:30pm Emerging Tech Trends for 2021 and Beyond
Register of Find more info: Go to techdayswisc.org

All webinars will be recorded, captioned, and available on the Resources page.
There is no fee to attend Tech Days, thanks to sponsorship by all 16 library systems and the Wisconsin Department of Public Instruction, Public Library Development Team, with funding support from the Institute of Museum and Library Services.