Monthly Memo Newsletter | February 2021
ARROWHEAD LIBRARY SYSTEM NEWS
Monthly Circulation Statistics
Total Circulations in January 2021
Traditional: 67,261

81%

81%

OverDrive/Libby: 11,253

14%

14%

Hoopla Digital: 4,304

5%

5%
Milton Public Library Goes Partially Fine Free
A Facebook post shared by Milton Public Library.
We have gone FINE FREE on our children and young adult materials!
This includes picture books, board books, easy readers, chapter books, children's nonfiction, youth audio books, children's magazines, and teen books. It ALSO includes children, family, and teen movies.
Why you ask? Because we LOVE our patrons. But also, the American Library Association (ALA) put out a resolution that fines present an economic barrier to accessing library materials and services. In the library's recently-created strategic plan, the Library Board and staff set a goal to be available, accessible, and inclusive, with a working objective of exploring a fine free or partially fine-free initiative. And we know that many families are navigating various struggles due to COVID-19, and it was important to us that youth have unrestricted access to the library.
Please note that this change to being fine free applies to Milton items checked out at Milton Public Library. Books will still have a three-week checkout period and movies will be available for a week. It's also important to know that juvenile items from other libraries within the SHARE library consortium may still trigger overdue fines, and Milton items checked out at other libraries may also be assessed overdue fines. Patrons will still be charged for unreturned and/or damaged items, and they won't be able to use library services until they return the items or pay the replacement fees.
We're so exited to make this step to being more accessible!
Several ALS Libraries to Participate in NEA Big Read in April
YOUNG AUDITORIUM ONE OF 84 ORGANIZATIONS NATIONWIDE TO RECEIVE A NATIONAL ENDOWMENT FOR THE ARTS 'BIG READ' GRANT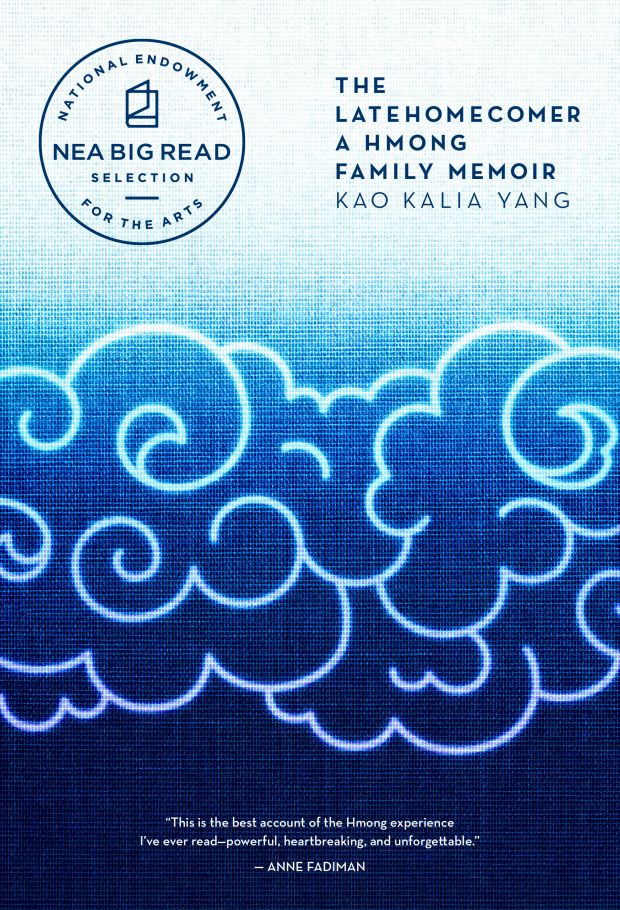 Rock, Walworth and Jefferson County Communities to Read and Celebrate THE LATEHOMECOMER by KAO KALIA YANG. – Events Start APRIL 3, 2021
September 17, 2020—Young Auditorium is a recipient of a full grant of $15,000 to host the National Endowment for the Arts Big Read in Whitewater and its neighboring communities. An Arts Endowment initiative in partnership with Arts Midwest, the NEA Big Read broadens our understanding of our world, our communities, and ourselves through the joy of sharing a good book. Young Auditorium is one of 84 nonprofit organizations selected to receive an NEA Big Read grant to support a community reading program between September 2020 and June 2021. The NEA Big Read in Whitewater will focus on THE LATEHOMECOMER by KAO KALIA YANG. In addition to the featured title, Young Auditorium also selects a companion novel to help involve youth in this innovative reading program. The featured youth title will be A MAP INTO THE WORLD, also by Kao Kalia Yang. Local 'Big Read' activities will start with a kick-off event on April 3, 2021, and continue taking place throughout the remainder of April.
About the Book
The Latehomecomer, written by Kao Kalia Yang, was the first memoir written about the Hmong people, recalling her own family's story. The novel takes readers along on a journey beginning with her family's imprisonment in Laos and their escape to a Thailand refugee camp ending with their immigration to Minnesota.
Local Events
Events may require registration. Visit the hosting library's website for details.
See more events.
Scheduled Migration from Lynda.com to LinkedIn Learning Announced
Highlights:
Expect outages Thursday, March 4th during the migration.
Patrons do NOT need a  LinkedIn account to use LinkedIn Learning.
Existing accounts & histories will migrate.
Login credentials: library card # and PIN.
New Login Portal: https://www.linkedin.com/learning-login/go/share
The LinkedIn Learning mobile app does not currently work with library subscriptions. They are working on it.
Thursday, March 4, 2021 SHARE Consortium's Lynda.com subscription will migrate to the LinkedIn Learning platform.
Press Release
Rock County, Wis. – March 4, 2021 – Local public library cardholders now have free access to LinkedIn Learning, a subscription website used by 78% of Fortune 500 companies to upskill their employees. The same video courses used by the world's top companies and taught by industry experts are now available 24 hours a day through the library.
LinkedIn Learning offers courses in software, creative, and business skills and the site meets some of the internet's highest standards for accessibility. Courses are offered in seven languages: English, German, French, Spanish, Japanese, Portuguese, and Mandarin.
LinkedIn, the professional networking site, purchased Lynda.com to combine the insight, expertise, and content of both companies creating LinkedIn Learning. This merger expands the course library from 7,000 videos to 16,000+ training videos featuring today's in-demand skills. SHARE Consortium's public libraries, including Rock County's, will migrate from Lynda.com to LinkedIn Learning on Thursday, March 4, during which time service outages are expected.
Patrons with Lynda.com library accounts, which use their library card number and PIN, will automatically transfer to the LinkedIn Learning platform and can be accessed with the same card number and PIN when the migration is over. Library cardholders can access LinkedIn Learning beginning sometime Thursday, March 4 at https://www.linkedin.com/learning-login/go/share. A mobile app is in the works for future release, the current app does not work with library subscriptions.
Magazines Available for Simultaneous Use on OverDrive & Libby
Shared directly from the WPLC announcements. Subscribe here.
Due to a cooperative purchase by a few WI systems and libraries, magazines have been added to Wisconsin's Digital Library for the whole state to enjoy!
The collection includes over 3,000 titles. All are simultaneous use and can be accessible via the website, the Libby and OverDrive apps.
The collection can be searched or browsed by clicking on the Collections tab at the top of Wisconsin's Digital Library. There is also a carousel featuring the magazines on the homepage.
Many thanks to the following libraries and systems for this cooperative purchase! Brookfield Public Library, Brown County Library, Kenosha County Public Library, McMillan Memorial Library, Milwaukee County Federated Library System, Manitowoc-Calumet Library System, Monarch Library System, Nicolet Library System
ALA Library Week: April 4-10, 2021

National Library Week 2021: Welcome to Your Library
The theme for National Library Week (April 4-10, 2021), "Welcome to Your Library," promotes the idea that libraries extend far beyond the four walls of a building – and that everyone is welcome to use their services. During the pandemic libraries have been going above and beyond to adapt to our changing world by expanding their resources and continuing to meet the needs of their users. Whether people visit in person or virtually, libraries offer opportunities for everyone to explore new worlds and become their best selves through access to technology, multimedia content, and educational programs.
Natalie Portman to Serve as 2021 National Library Week Honorary Chair
Actress, author, and activist Natalie Portman will lend her star power to shine a spotlight on our nation's libraries as the honorary chair of National Library Week 2021. She will help highlight the essential role libraries, librarians, and library workers play in serving their communities, especially during challenging times.
Portman is an Academy Award-winning actress, director, producer, and activist whose credits include "Black Swan," "Jackie," and the upcoming "Thor: Love and Thunder." A lifelong fan of books, she shares the books she's reading on her Instagram feed, as part of Natalie Portman's Book Club, using the hashtag #whatnatreads. Born in Jerusalem, Israel, she is a graduate of Harvard University, and now lives with her family in Los Angeles. Natalie Portman's "Fables" is her debut picture book.
Celebrations during National Library Week
Monday, April 5: State of America's Libraries Report released, including Top Ten Frequently Challenged Books of 2020.
Tuesday, April 6: National Library Workers Day, a day for library staff, users, administrators and Friends groups to recognize the valuable contributions made by all library workers.
Wednesday, April 7: National Library Outreach Day, a day to celebrate library outreach and the dedicated library professionals who are meeting their patrons where they are.
Thursday, April 8: Take Action for Libraries Day,

 

a day to rally advocates to support libraries.
ALA Promotional Toolkits and Activity available free!
See all the resources on the ALA website.
Share these "Welcome to Your Library" graphics on your websites, social media channels, e-newsletters and more!
Graphics with the "Welcome to Your Library" theme 
SHARE Coordination Meeting: Tuesday, March 16, 9:30 a.m.
Virtual