Monthly Memo Newsletter | APRIL/MAY 2019
ARROWHEAD LIBRARY SYSTEM NEWS
Two Captains & Others Join ALS Crew
Arrowhead Library System recently welcomed five new cardboard stand-ups to their collection. Stand-ups are available to ALS libraries for use with programming and promotion.
View our website for a complete inventory list, reservation form, and use calendar.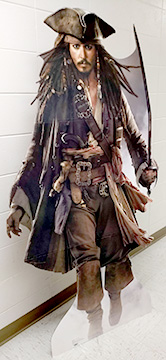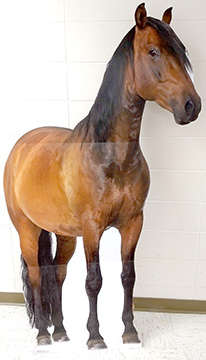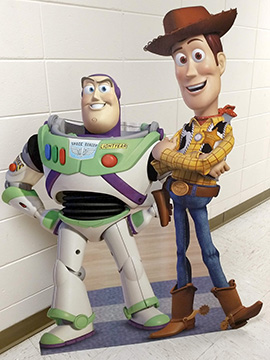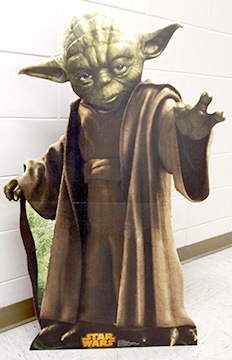 Sign Up to Work the Fair Booth
Sign up for a shift!
July 23-28, 2019
Please sign up for a shift to run the booth at the Rock County 4-H Fair.
We will be giving out temporary tattoos, promoting our services with a handout, and encouraging visitors to open a library card (at the library) with a chance to win a $50 Visa gift card. Our booth is going to have a really fun space theme, just like the summer reading program!
This is a great chance to chat with people of all ages from across the county and surrounding areas. It's easy, fun, and most libraries consider it paid time! Work with a favorite coworker, family member, or friend!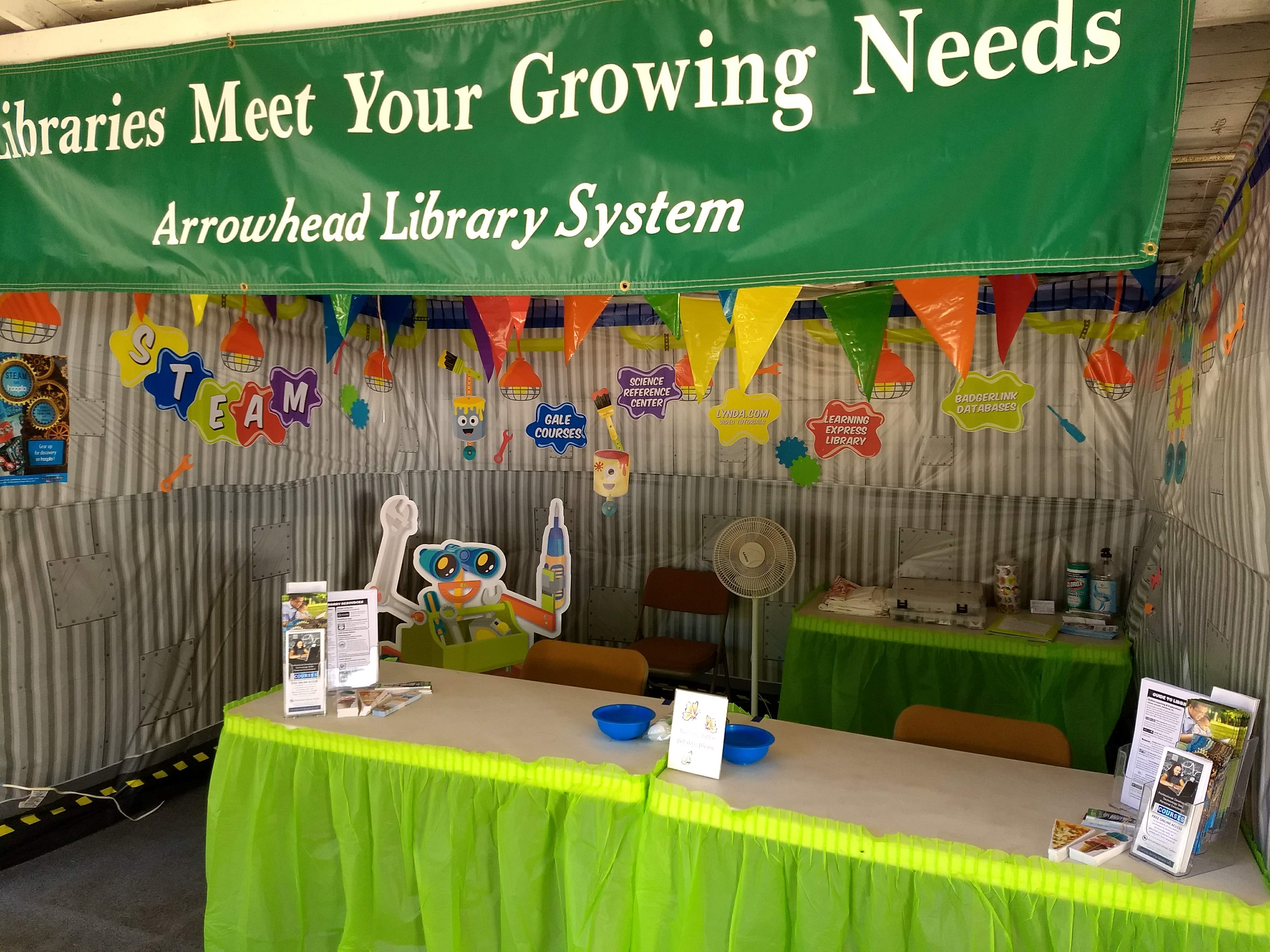 Above: 2018 Fair Booth
We're located under the grandstand, next to an entrance. We're shaded and have electricity!
Monthly Circulation Statistics
Total Circulations in April 2019
103,385 Traditional Circulations

88.7%

88.7%

10,050 OverDrive/Libby Circulations

8.6%

8.6%

3,167 Hoopla Digital Circulations

2.7%

2.7%
Job Openings at Member Libraries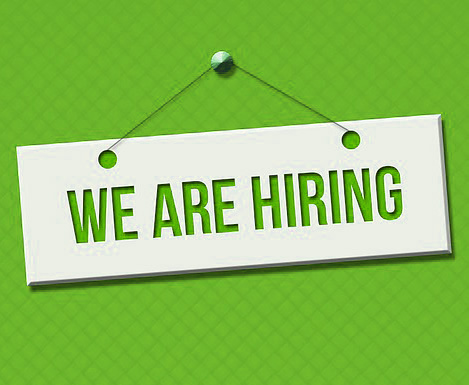 Library Service Specialist II – Programming (Early Literacy)
Beloit Public Library
Part-Time (20 hours per week)
More Info & Application
Custom HTML Notices Now Available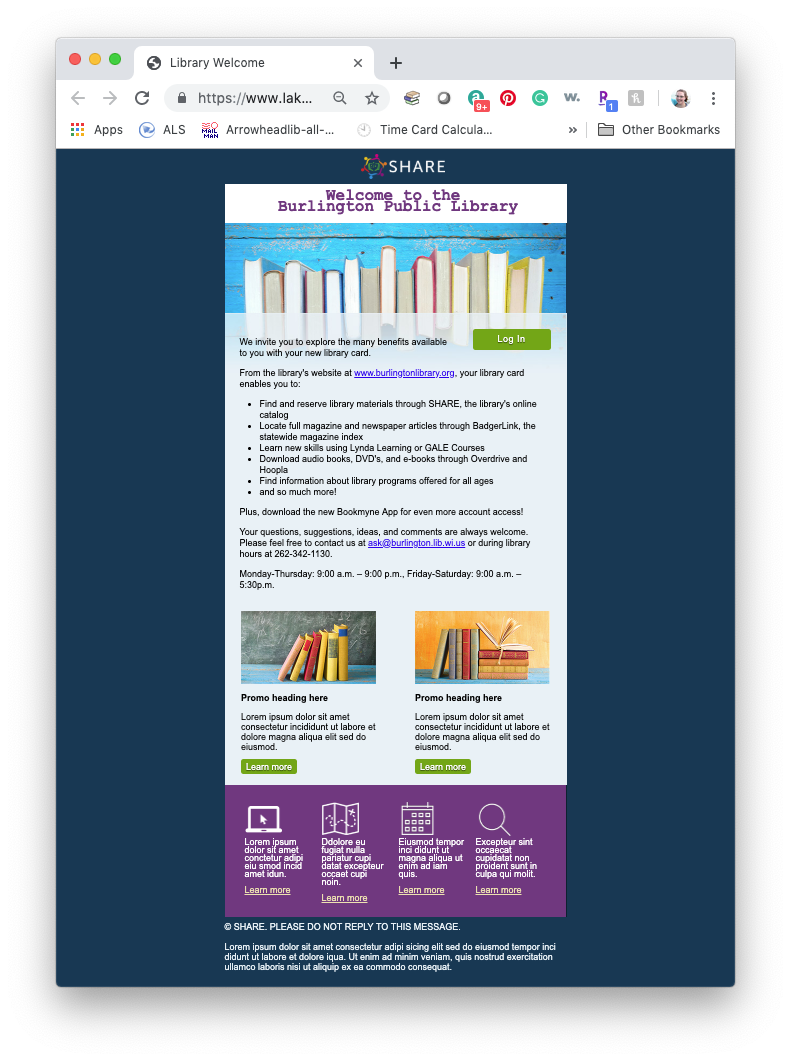 Any SHARE library wishing to customize automatic notices issued to patrons by the catalog should submit an LLS Help Desk ticket.
View examples:
Save the Dates: Wisconsin Tech Days
Immerse yourself in a full day of technology trends, networking, break-out sessions, and more.  You, your staff, and trustees are invited to attend any of the three workshops.– September 10: Tech Days East at Franklin Public Library
September 11: Tech Days East at Gordon Bubolz Nature Preserve
September 12: Tech Days East at Monona Public Library
November 5: Tech Days West at Wisconsin Indianhead Technical College (WITC) in Rice Lake
November 6: Tech Days West at Marathon County Public Library in Wausau
November 7: Tech Days West at Jake's Northwoods in Sparta

Don't miss the Wisconsin Library Association's biggest conference of the year happening this October. This year's theme is "Celebrating Every Story". There will be something for everyone in any stage of their career and non-stop networking opportunities. Plus, there will be vendor exhibits and in Indie Author Garden in the exhibit hall. There's a great lineup of keynote and featured speakers (Ijeoma Oluo, Michelle Hensley, John Chrastka, and Miranda Paul) and helpful pre-conference workshops are in the works.
Conference Registration opens soon.
Hotel block reservations now open.

CONFERENCE DETAILS
Tuesday, October 8, 2019
Friday, October 11. 2019
Kalahari Convention Center
Wisconsin Dells, Wisconsin

Library Marketing & Communications Conference

This conference is designed for library employees of any level who are involved in marketing, communication, public relations, social media, and outreach in academic, public, and special libraries. The sessions will explore issues that are important for this niche of library work, and the conference will include time for attendees to network and to discuss mutual challenges.
This event that's geared specifically toward the necessary work of marketing communication (MarCom), which includes public relations, social media, branding, and related topics. Improving these skills puts libraries in better positions to have their messages heard and to have their services well-used and appreciated.
Join the LMCC email list and follow them on social media to be the first to hear news about LMCC19. 
Conference Registration opens soon.
Hotel block reservations now open.
Space for both fills fast!
CONFERENCE DETAILS
Wednesday, November 13, 2019
Thursday, November 14, 2019
Hyatt Regency St. Louis at the Arch
St. Louis, Missouri

WiLS World Comes to Madison

Register today to attend WiLSWorld 2019! WiLS' annual conference on innovative library practices in technology and collaboration brings together WiLS members from across Wisconsin and beyond to share ideas, connect with one another, and learn about developments in the field.
Conference Registration now open.
Hotel block reservations now open.

CONFERENCE DETAILS
Tuesday, July 23, 2019
Wednesday, July 25, 2019
Pyle Center
Madison, Wisconsin