Monthly Memo Newsletter | November 2019
ARROWHEAD LIBRARY SYSTEM NEWS
Monthly Circulation Statistics
Total Circulations in October 2019
101,496 Traditional Circulations

88%

88%

10,605 OverDrive/Libby Circulations

9%

9%

3,351 Hoopla Digital Circulations

3%

3%
Save the Date: The Homeless Librarian
Joe Dutra with the Homeless Librarian will be doing live training at the Beloit Public Library on Friday, March 6, 2020. There will be two training sessions from 9 a.m. to noon and again from 1 to 4 p.m. All ALS library staff are encouraged to attend one of the sessions. Stay tuned for more details and registration information.
This interactive training is part "how to understand your homeless patrons" and part "how to work with difficult patrons". It focuses on very practical tools you can use every day to resolve problems and prevent conflict. There is a special focus on patrons with mental health and substance abuse issues.
Choose a training session (registration info will be announced this spring):
Friday, March 6, 2020
9 a.m. – noon
Friday, March 6, 2020
1 p.m. – 4 p.m
Reserve The Librarian's Guide to to Homelessness by Ryan J. Dowd in the SHARE catalog.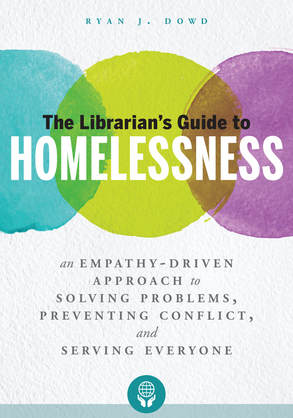 The Librarian's Guide to Homelessness: An Empathy-Driven Approach to Solving Problems, Preventing Conflict, and Serving Everyone by Ryan J. Dowd
LearningExpress Library: New and Updated Content
LearningExpress Library is a collection of web-based test preparation tools and skill-building materials. You can access all 7 LearningExpress Library learning centers through BadgerLink, which includes full-text ebooks, courses, and tutorials.
Brand new materials include:
In Career Preparation Center

Radiography Practice Exam 1 & 2
Military to College: A How-to guide for New Veterans Tutorial
Interview with Confidence Tutorial
Job Offers and Salary Negotiation Tutorial

In

 

High School Equivalency Center

Skills Check (TABE 11/12): Reading 1 & 2
Skills Check (TABE 11/12): Math 1 & 2
Skills Check (TABE 11/12): Language 1 & 2
Updated materials include:
More No-Wait Titles Available Now on OverDrive & Libby
The Wisconsin Digital Library (OverDrive and Libby) has a 350 title collection of
No-Wait eBooks
c
urated and ready for readers. These titles are provided by BiblioBoard and include Self-E Select contest winners from previous years. The collection consists of high quality, vetted works from self-published authors and the collection will be available for one year.
Time Change to SHARE Directors' Council and LAC Meetings
The monthly SHARE Directors' Council meeting and the LAC meeting, both generally held on the First Tuesday of each month, have switched times.
The SHARE meeting will now be first at 9:30 a.m. followed immediately by the LAC meeting (LAC start time will vary).
Find the complete calendar of SHARE meetings here.
Last PLSR Implementation Webinar Today!
Written by Ben Miller, Resources for Libraries and Lifelong Learning
The Department of Public Instruction has begun identifying activities for implementing recommendations included in the Public Library System Redesign (PLSR) Committee's Recommendation Report. A preliminary timeline has been drafted at the request of COLAND and was presented to both COLAND and SRLAAW.

We will be presenting this timeline of activities at two webinars this November:

The entire Wisconsin library community is invited to attend these sessions. The same material will be presented at both and each webinar will allow time for questions and comments about the proposed activities. Both webinars will be recorded and posted after they are completed.

To keep up to date on PLSR activities, be sure to watch the COLAND webpage. All materials developed and posted to the PLSR.info page will continue to be available but that website is no longer being updated with new information.
New State-Level Community Engagement Training
The Public Library Development arm of Wisconsin's Department of Public Instruction is proud to partner with the American Library Association for a new state-level community engagement training, Wisconsin Libraries Transforming Communities.
Thriving Libraries, a team of consultants trained in community engagement and leadership development techniques, is providing the expertise for this 18-month hands on, cohort-based training. Up to 20 two-person Teams–consisting of one library staff member and one community member–will be trained in this inaugural effort.
The Wisconsin Libraries Transforming Communities training relies on raising up library leaders in coaching positions, as well.  Up to 10 individual Coaches will be trained as part of this state-wide effort. Envisioned as an 18-month masterclass in authentic leadership, resilience, and self-care, Coaches will be assigned two participant Teams to cheerlead and shepherd through their library community engagement projects.
INFORMATIONAL WEBINAR

Wednesday, December 17 at 11:00 AM.

It will include an overview of the training, expected time commitments, learning goals, and the requirements for the competitive application process for both Teams and Coaches.

To join the webinar with your computer, download the Microsoft Teams app ahead of time or use Microsoft Edge as your browser for a web-based experience.
Click Join Microsoft Teams Meeting to join the webinar.
OR call 608-620-9781 (Madison-Toll).
When prompted, enter this Conference ID: 188 090 510#
APPLICATIONS

Application materials for both TEAMS and COACHES will go live on the DPI website by the close of business on Friday, December 13.
The community engagement training will result in:
Public libraries inspired to participate in communities in order to meet community needs on a local level.
Thorough understanding of community needs and future aspirations from diverse stakeholders.
Strong understanding of current community-based planning strategies in the library field and related fields.
Development and evolution of program and service offerings that serve community aspirations and needs.
Deeper relationships with communities that are typically underserved, underrepresented and underrecognized.
Free webinar highlights community collaboration opportunities for libraries in 2020 Census
The American Library Association (ALA) will hold a free webinar for library staff, "Library Programs and Partnerships in the 2020 Census," on December 16, 2019, at 2:00 p.m. Eastern Time.
Libraries will play vital roles in achieving an accurate and complete count in the 2020 Census. This webinar will highlight key opportunities for libraries to collaborate with community partners and provide informational programs in the upcoming Census. Strategies for libraries to reach groups at risk of being undercounted in the 2020 Census will be emphasized. Presenters will include representatives from libraries, community organizations, ALA, and the U.S. Census Bureau.
The webinar will be offered at no cost to attendees and is presented by ALA's Public Policy & Advocacy office. Registration is required.
The Programs and Partnership webinar is fourth in a series addressing key aspects of the 2020 Census for libraries.
Future topics to be announced
For more information on ALA's efforts to support a fair, inclusive and complete count in the 2020 Census, visit ala.org/census. To connect on social media, follow #CountOnLibraries, #2020Census.
Wisconsin Public Library Professional Development Participation Research Study Report
Written by Tessa Michaelson Schmidt, Public Library Development
Last summer, the Division for Libraries and Technology (DLT) commissioned a study of barriers to participation in professional development opportunities for public library staff. WiLS was selected to conduct the study as the result of an RFP process. WiLS gathered data using various methodologies, analyzed it, and developed a list of recommendations.
You can download the final version of the Wisconsin Public Library Professional Development Participation Research Study Report.
DLT is committed to maximizing the effectiveness of professional development opportunities for library staff. The assessment of barriers delved into issues such as staffing, director certification, funding, and awareness of opportunities. Professional development ties into all five goal areas of the LSTA Five-Year Plan for Wisconsin: Technology, Resource Sharing, Leadership Capacity, Community Engagement, and Inclusive Services. In addition, equity of professional development is a critical component of numerous Public Library System Redesign (PLSR) Recommendations, most notably: Developing Standards, Best Practices, and Accountability Structures;, Enhancing Collaboration by Creating Incentives and Removing Barriers; and implementing a Learning Management System for Professional Development.
This external study will: a) help identify specific challenges related to library staff absences, b) increase understanding of existing practices in other states/regions, and c) offer options to DLT and our stakeholders for possible solutions. Moving forward, DLT will consult with system continuing education consultants later this month to discuss the findings of the report. In addition, DLT staff are analyzing the report and its recommended action steps in relation to existing professional development efforts.