Monthly Memo Newsletter | September 2022
ARROWHEAD LIBRARY SYSTEM NEWS
Monthly Circulation Statistics
Total Circulations in August 2022
Traditional: 80,712

81.9%

81.9%

OverDrive/Libby: 12,287

12.5%

12.5%

Hoopla Digital: 5,608

5.7%

5.7%
LinkedIn Learning
24/7, unlimited access to over 16,000 Business, Design & Tech tutorials online. Learn in-demand skills. Access LinkedIn Learning anytime, anywhere on your computer, smartphone, or tablet. Tutorials are downloadable for offline viewing.
LinkedIn Learning for Library includes courses conducted in English, French, German, Japanese, Spanish, Mandarin, and Portuguese. LinkedIn Learning now includes content from Lynda.com.
Audience: Grades 5-12 Grades, College, Adult, Professionals 
Subjects Covered: Business, Software, Technology, Creative Skills
How to Create a LinkedIn Learning Account
You must go to LinkedIn Learning using our log-in portal to create a free account. 
STEP 1: Go to LinkedIn Learning using this link.
https://www.linkedin.com/learning-login/go/share

STEP 2: Type your library card number and PIN. 
STEP 3: Follow the on-screen prompts to select interests and learning goals.
"How to Download and Log In to the LinkedIn Learning App
STEP 1: Create an account at https://www.linkedin.com/learning-login/go/share.
STEP 2: Install the free LinkedIn Learning App from the app store/marketplace for your device (iPhone and Android).
STEP 3: Click "Sign In", then click "Sign in with your library card" near the bottom of the screen.
STEP 4: Your library id, in all lower case is share.
STEP 5: Enter your library card number and PIN and click "Continue".
STEP 6: You should get a message "Open in LinkedInLearning App?". Click Open.
STEP 7: The first time you log in to the app, you'll be asked to agree to the Terms of Service. Click "Accept".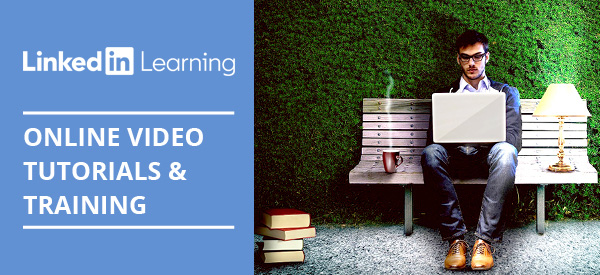 Joint Collaboration in Support of Professional Learning
Shared from WI Libraries for Everyone email | Thursday, September 22, 2022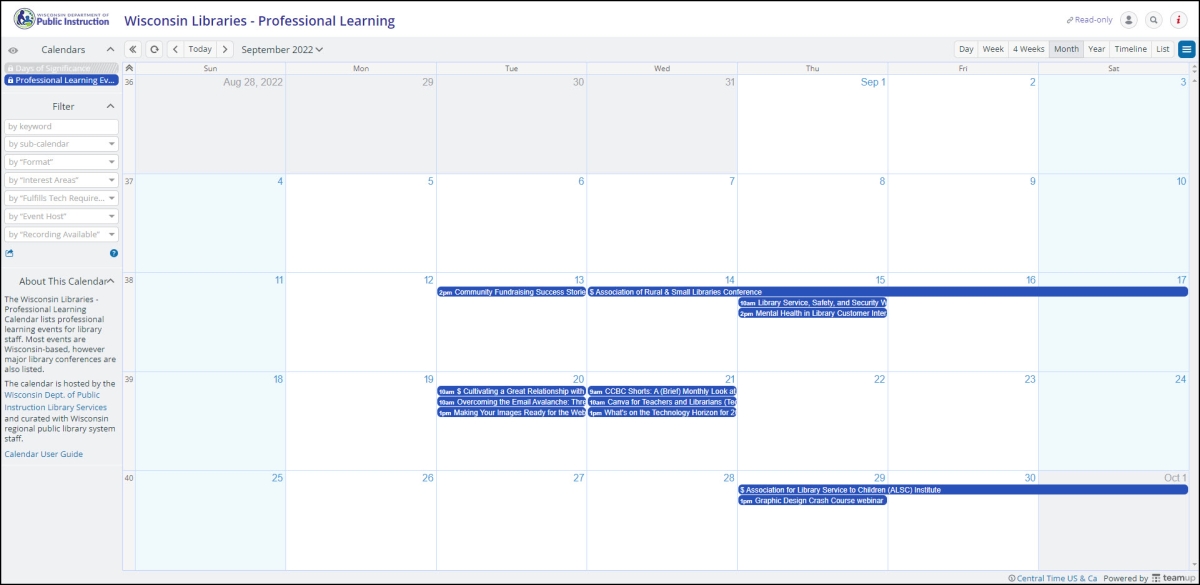 In a collaborative partnership brought forth through needs addressed during the Public Library System Redesign (PLSR) process, the DPI Library Services Team and the Wisconsin Public Library Systems are excited to announce the Wisconsin Libraries Professional Learning Calendar.
Hosted by DPI using the Team Up platform and curated by the Public Library Systems, the calendar brings together learning events from Wisconsin library systems, associations, DPI Library Services, and other groups all in one place. Public library directors, staff, and trustees are now able to find relevant professional learning without searching multiple calendars and websites. Most events are Wisconsin-based, however major national library conferences are also included.
Search for specific events or browse by categories like Interest Areas, event host, whether the event fulfills the technology requirement, and more. Locate recording links for previous sessions and the applicable number of CE Contact Hours for each event. Share individual events using a unique URL, through email or social media, or add to your own calendar. No account is needed to use the calendar. A User Guide is also available for quick reference.
Find the Wisconsin Libraries Professional Learning Calendar on the DPI website at https://dpi.wi.gov/libraries/professional-learning, on your Public Library System's Continuing Education webpage, or by bookmarking the Team Up link.
For questions about the calendar please reach out to your System CE Coordinator or the DPI Library Services Team.
See more posts on the WI Libraries for Everyone page.
2022 WI Public Libraries CE Topics Survey
Here is your opportunity to tell Wisconsin library system continuing education planners what you would like to learn. Your responses will help shape and develop the offerings in your region and the state.
Click on the 2022 WI Public Libraries CE Topics Survey and select topics for the areas that are of interest to you or your staff. You can also suggest topics even in areas we didn't list. This should take you eight (8) minutes or less.
Submit your responses by Friday, October 28, 2022.
Questions? Problems?
Contact Laurie Freund (ljfreund@bridgeslibrarysystem.org or 262-896-8083).
Public Service Student Loan Forgiveness Waiver due Oct. 31
Shared from PLA enews  |  9/29/2022
The PSLF Temporary Waiver is closing in one month! Do not miss this opportunity—apply by Oct. 31. Library workers across the country with federal student loans may be qualified for expedited loan forgiveness, inclusion of previously non-qualifying payments, waiving of past PSLF denials, and more. This is a unique and historic opportunity, particularly for library workers who have been unsuccessful in past PSLF applications—the Temporary Waiver was designed to enable forgiveness for applicants who have been denied in the past or faced challenges in the process. ALA, PLA, and our partners have consistently advocated for a streamlining of the process and new mechanisms to ensure more library workers are able to see their federal loans forgiven. Check out ALA's full guide to the PSLF Temporary Waiver, and past advocacy on loan forgiveness, at ala.org/advocacy/loan-forgiveness.
Need more information? Join a webinar with our partner, the PSLF Coalition, on Oct. 5, or view their archive of past information sessions at pslfcoalition.org/temporary-waiver.
Registration is Now Open for the 2022 WLA Annual Conference
Get Ready to "Rise to the Challenge" This Fall!
Registration is now open for the WLA Annual Conference, scheduled for November 1–4, 2022 at the Grand Geneva Resort & Spa in beautiful Lake Geneva, Wisconsin.
Early bird rates and the cutoff date for the hotel guest rooms ends on October 10, 2022 – so register today!
This year, your registration fee includes:
Three educational and informative keynote speakers, including New York Time's bestselling author Jason Reynolds, Library Freedom Project Founder and Director Alison Macrina, and 2021-2022 Wisconsin and Milwaukee Poet Laureate Dasha Kelly Hamilton.
Access to luncheon presentations by former Wisconsin Lieutenant Governor Barbara Lawton, and Caldecott Medalist, Newbery Honoree, and #1 New York Times bestselling author and illustrator Kevin Henkes.
Nearly 70 breakout sessions.
Access to a growing list of exhibitors in the Exhibit Hall, include vendors, independent authors, and library presenters offering new tools, services, innovations, programs, and materials for your library.
Five meals (three breakfasts and two lunches), two afternoon snack breaks, and an opening reception- a great value!
Special events, including library tours and the chance to try your hand at playing the Dungeons and Dragons tabletop role playing game.
Numerous networking opportunities to develop, rekindle, and maintain relationships with peers from around the state.
Book your room at the Grand Geneva Resort & Spa!
The cut-off date for the hotel guest rooms ends October 10, 2022.
Make Your Reservation Online or call 262-248-8811/877-741-9548 and reference Wisconsin Library Association.
Room rates (plus applicable state and local taxes and resort fee)
Double (two double beds) – $109.00
Standard King – $134.00
King suite is $179.00
The next Big Library Read kicks off on November 2
About Big Library Read 29
The next Big Library Read kicks off on November 2. OverDrive is excited to announce our selection is: A Snake Falls to Earth by Darcie Little Badger.
This award-winning title draws on traditional Lipan Apache storytelling structure to weave an unforgettable tale of monsters, magic and family. Awards include Newbery Award Honor, American Indian Youth Literature Award Honor and National Book Award Longlist.
A Snake Falls to Earth will be available for simultaneous use in ebook and audiobook formats between November 2-16. The title, along with a promotional spotlight on Libby and the OverDrive app.
Get readers excited about Big Library Read

Marketing materials and a press release template are available to promote Big Library Read to your community. Be sure to check out all the great things available to help get the word out.
And readers can use #biglibraryread on social media for a chance to win a tablet, a blanket and Libby swag. See the official rules.