Monthly Memo Newsletter | January/February  2022
ARROWHEAD LIBRARY SYSTEM NEWS
Monthly Circulation Statistics
Total Circulations in December 2021
Traditional: 62,208

80.5%

80.5%

OverDrive/Libby: 10.803

14%

14%

Hoopla Digital: 4,202

5.5%

5.5%
Total Circulations in January 2021
Traditional: 67,960

80.3%

80.3%

OverDrive/Libby: 11,941

14.1%

14.1%

Hoopla Digital: 4,758

5.6%

5.6%
René Bue (HPL) Wins YWCA's Racial Justice Award
Shared from YWCA Rock County's Facebook Page | 1.10.2022
YWCA Rock County is pleased to announce René Bue, Programming and Outreach Coordinator at Hedberg Public Library is the 2022 recipient of the YWCA Racial Justice Award.
The Racial Justice award recognizes an individual that actively strives to eliminate racism and promotes racial equality. Individuals nominated demonstrate leadership and service to others. Recipients are nominated by members of the community. Some of Ms. Bue's most recent accomplishments include:
René is an active founding member of Allies of Native Nations, a group that has done phenomenal work, including producing a resource guide for educators.
René has organized and hosted a semi-annual half day gathering for service providers who work directly with our local Latino community.
Bue has worked with the Diversity Action Team of Rock County to bring monthly educational programs to our community.
"The hours of commitment to organize and plan the events listed above, as well as serving on local committees such as the Janesville Police Department Latino Liaison Advisory Committee and the African American Liaison Advisory Committee. She exhibits significant involvement in the struggle for peace, justice, freedom and dignity for all people." – Vicki Brown
Ms. René Bue was honored during the annual Dr. Martin Luther King Jr. Commemoration (virtual) Saturday, January 15, 2022.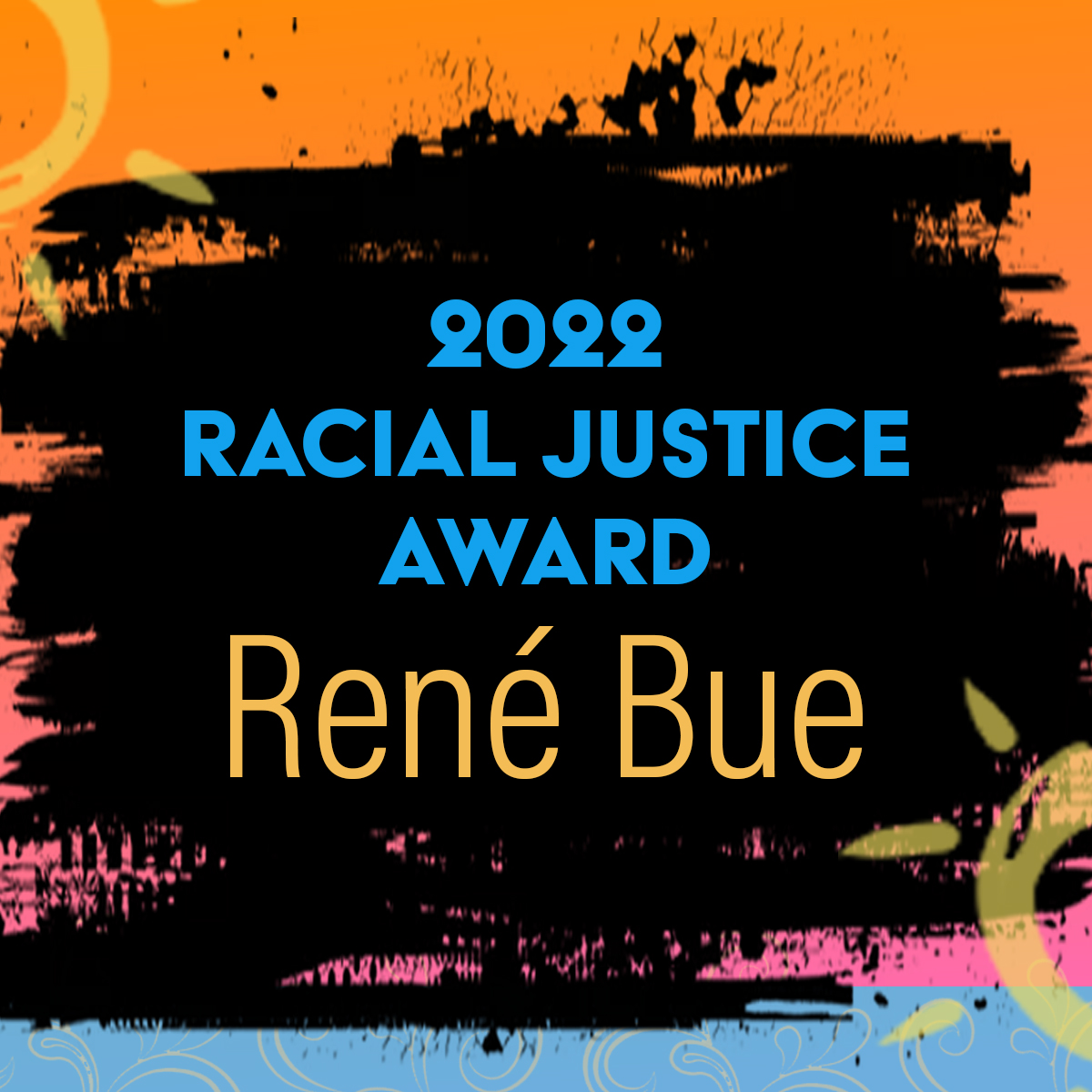 Last Day to Complete Merger Exploration Questionnaire
Questionnaire Closes today, Wednesday, February 23.
On behalf of the ALS/LLS Joint Exploration Committee, you are invited to complete a short questionnaire to help the Committee better understand what various stakeholders, at member libraries, systems, and boards, think should be gained through a potential merger. Additionally, the Committee is developing a list of questions or issues that will be considered as part of the merger exploration process. This information will be used by the Committee to prioritize information gathering as well as help members make decisions about a potential merger.
Please share the questionnaire with any staff members or library board trustees who may have feedback for the committee.
The questionnaire closes today, Wednesday, February 23, end of day. However your feedback, input, and questions are always welcome and can be sent to the Committee at  als-llsjointcommittee@wils.org.
Websites You May Wish to Bookmark
Call for WAPL Conference Proposals
Shared from WLA email | 2.7.2022
The deadline for submission is this Friday, February 25, 2022. All submitters will be notified of their acceptance status by March 11, 2022.
The Wisconsin Association of Public Libraries (WAPL) Annual Conference Programming Committee seeks program proposals for the next in-person public library conference to be held May 11-13, 2022 at The Ingleside Hotel in Pewaukee, WI.
Have you ever told yourself, "That just isn't possible?" With a theme of INFINITE POSSIBILITIES, the goal of this year's WAPL conference is that attendees will leave empowered to explore possibilities beyond their library and community.
We hope to offer a broad range of content from all areas of the public library world, so we welcome all library and library system staff, as well as students, trustees, and those involved in friends and foundation groups to submit proposals.
Feedback suggests attendees are looking for programs on management, leadership, patron confidentiality, "boomer" awareness, patron apathy, technology, data-driven decision making, brand management and marketing, small library, genre and reader's advisory, and sessions for trustees and support staff. Other suggested topics include change management, grant writing, handling large donations, inclusivity, and dreaming big. 
Special Interest Groups are encouraged to submit proposals and meeting/social requests.
Proposals for presentations, panels, workshops, demonstrations, participatory sessions, business meetings, and unit social events are welcome. Sessions will run 60 minutes in length with a maximum of four presenters – 45 minutes for the presentation and 15 minutes of Q&A.
Please use this Program Proposal Form to submit your proposals.
Please contact the WAPL Programming Committee with questions:
Jackee Johnson, Northern Waters Library Service
Gina Rae, Northern Waters Library Service
Sarah Wargin, Northern Waters Library Service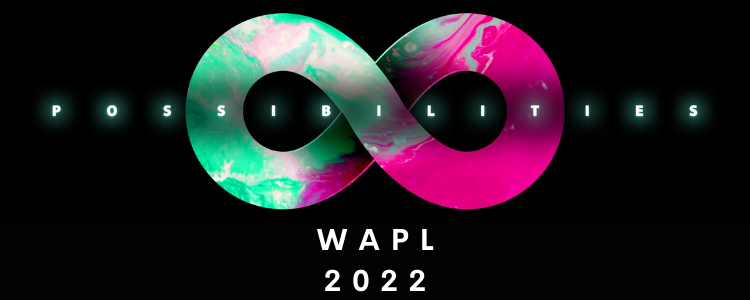 Wisconsin Libraries Talk About Race
 Guest WI Libraries for Everyone post submitted by Wisconsin Libraries Inclusion, Diversity, and Equity in Action Team | 1.31.2022
How can you better position your library, the heart of your community, as a place where diversity, equity, and inclusion (DEI) are celebrated?
In a 2020 survey, library workers statewide (and from libraries of all sizes) identified "the ability to communicate about topics related to race" as one skill they needed to better lead DEI efforts big and small in their libraries and communities.
The IDEA (Inclusion, Diversity, & Equity in Action) Team invites public library staff from throughout Wisconsin to participate in the 2022 Library Services and Technology Act (LSTA)-funded project, Wisconsin Libraries Talk About Race. This project is a continuing education series for Wisconsin library staff members interested in devoting more time to learning about diversity, equity, and inclusion and ways to bring DEI to their libraries and communities.
There are three ways to participate, based on your learning style and schedule in 2022:
1. Group education
Participate in one, two, or three one-hour webinars delivered once "live" virtually and recorded for later playback.
Let's Talk About Race At Work
View Archived Webinar Here (Login Required– Click "Register" to create a free account.)
Engaging in Sensitive Conversations & Handling Pushback
March 9, 10 a.m. –– Register HERE
Understanding Why Diversity, Equity, and Inclusion Matter in Majority White Space
April 14, 1 p.m. –– Register HERE
2. Group discussion
Explore the content of each webinar in online discussions made up of no more than 10 participants from across the state. Sessions will be offered virtually to allow for maximum accessibility and will be facilitated by trained library staff facilitators. Dates are forthcoming in 2022.
3. Independent study and exploration
Independently explore the content provided in each Webinar, with materials provided by the People Company. Prompts will be provided for participants, in order to practice essential competencies explored in the webinars. Materials will be accessible through the Wisconsin IDEA Team, and are forthcoming in 2022.
For questions, updates, or to contact an IDEA Team member, please visit the Wisconsin Libraries Talk About Race website, www.wislibidea.com.
This project was coordinated by the Wisconsin IDEA Team and made possible by the Wisconsin Department of Instruction (DPI) Public Library Development Team, with funding support from the Institute of Museum and Library Services.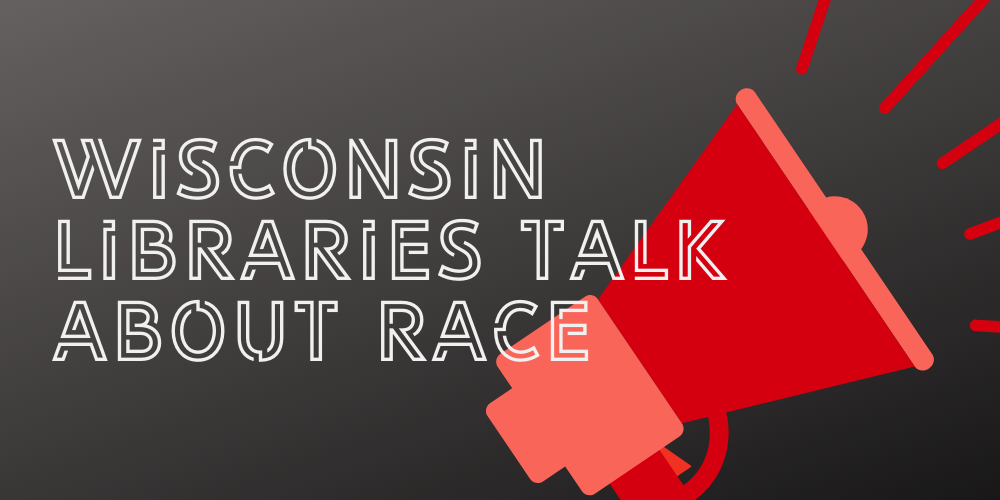 Wrapping Up Another Successful WLA Library Legislative Day
Shared from the WLA Bulletin | 02.18.2022
The annual Library Legislative Day took place Tuesday, February 8. WLA members and guests representing over 70 Wisconsin libraries gathered at the Madison Concourse Hotel for a morning session featuring comments by Governor Tony Evers, Superintendent Jill Underly, and State Librarian Tessa Michaelson Schmidt. Each group had the chance to have a photo take with Governor Evers. Many thanks to our photographer, Steve Platteter with the Arrowhead Library System!
State Senator Mary Felzkowski (R-Irma) and Representative Amy Loudenbeck (R-Clinton), both members of the legislature's Joint Committee on Finance, were named Library Legislative Champions for their ongoing support for Wisconsin libraries, particularly throughout the 2021-2023 budget process. Thanks to their efforts, Wisconsin public libraries will benefit from an additional investment of $4 million state aid dollars for enhanced services in the areas of technology, workforce development and lifelong learning. A Special Recognition Award was presented to Senator Felzkowski's legislative aide Stamena Ivanov.
Click here to view a recording of the morning session. Thank you to Mark Jochem and Vicki Teal Lovely from South Central Library System for making the recording possible!
Special thanks to the Library Legislative Day committee: Bruce Gay, Waukesha Public Library; Peter Loeffel, Wauwautosa Public Library; Nick Dimassis, Beloit Public Library; Jim Ramsey, Stoughton Public Library; Kris Adams Wendt, Wisconsin Valley Library Service; Nyama Reed, Whitefish Bay Public Library; Sherry Machones, Northern Waters Library Service; Steve Conway, Conway Consulting; and Hannah Bunting, WLA.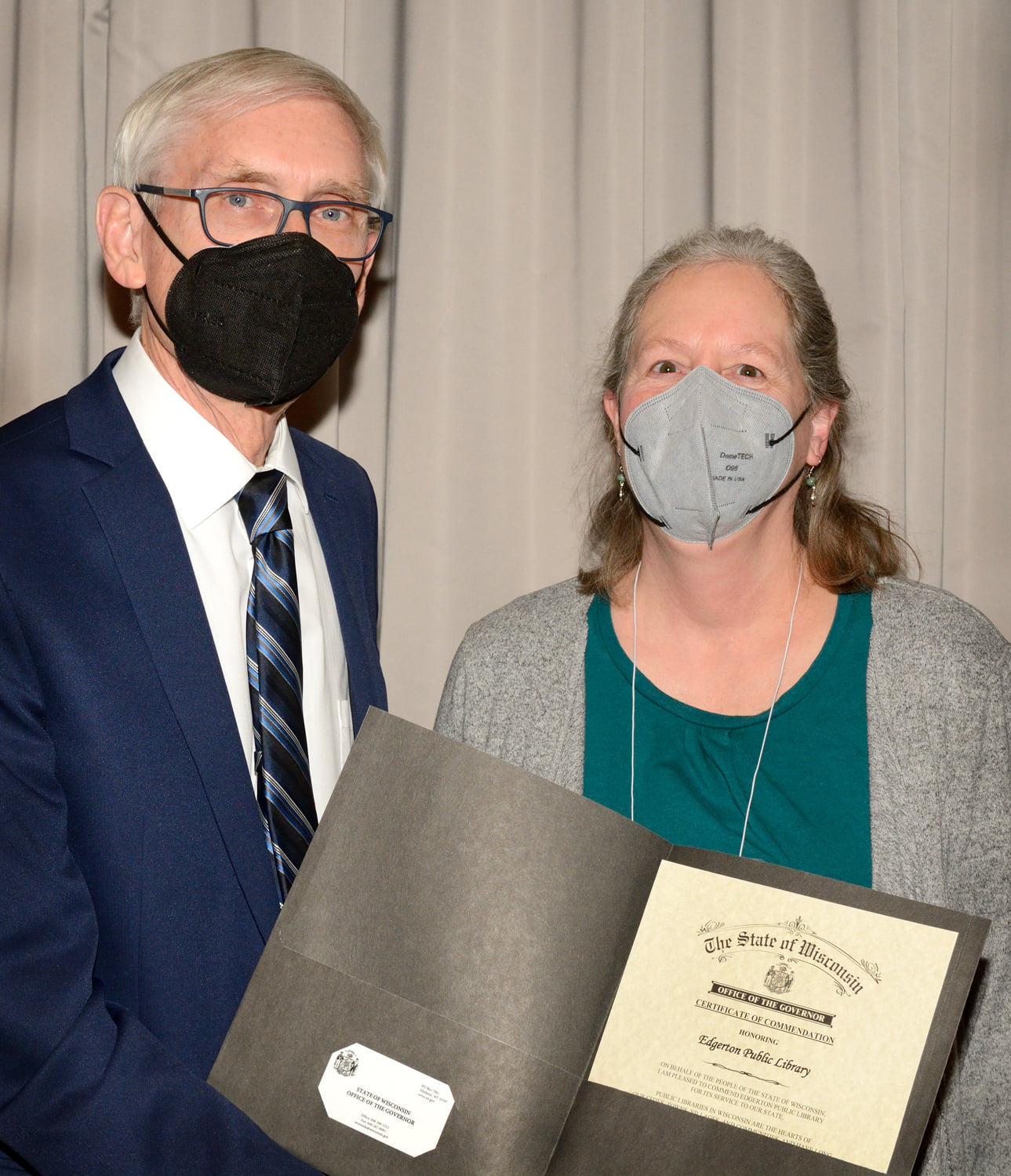 Governor Tony Evers and Edgerton Public Library Director Kirsten Almo.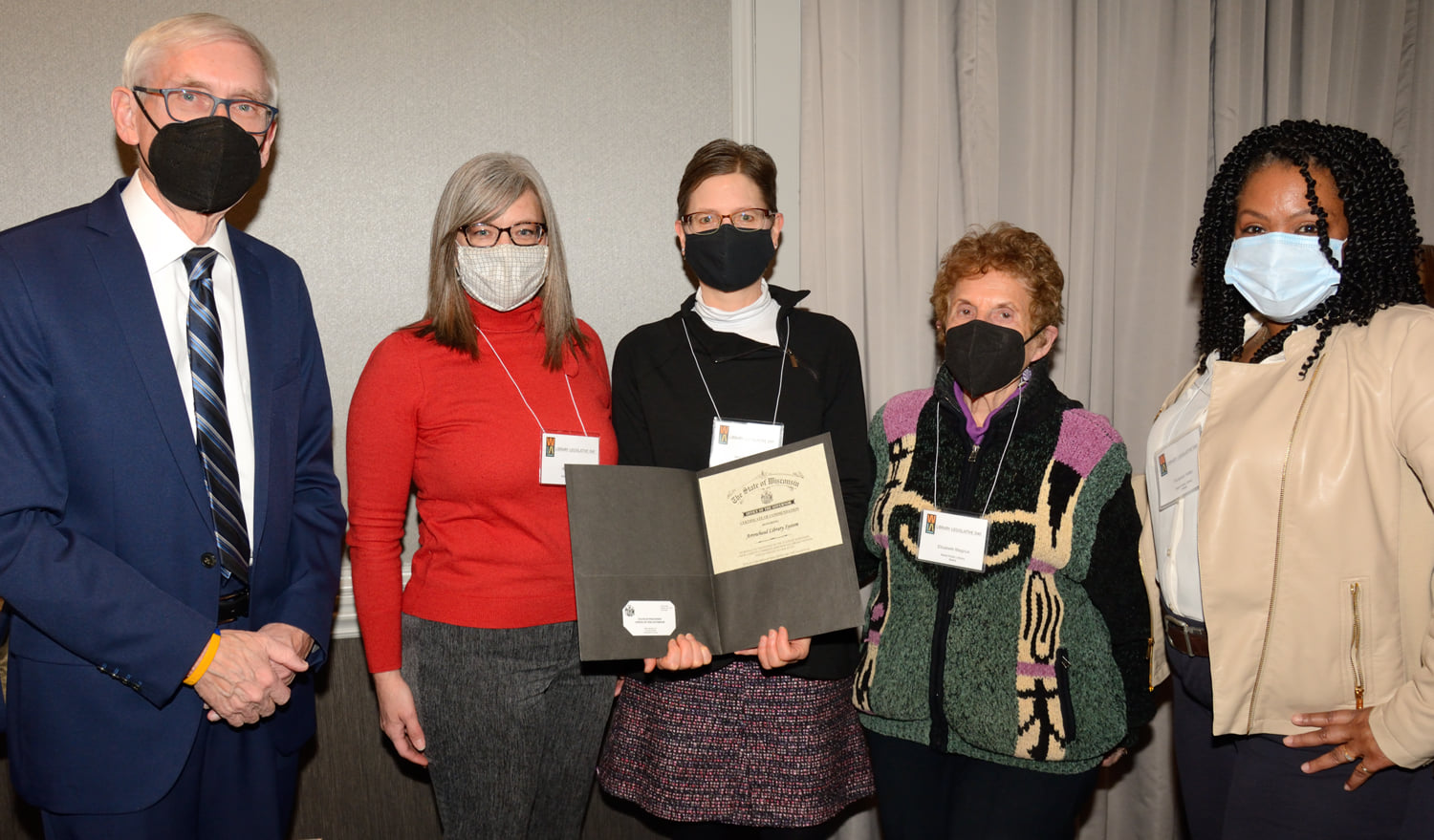 Governor Tony Evers and members of the Beloit Public Library staff and board: Amy Mitchell (Marketing and Communications Coordinator), Jeni Schomber (Head of Library Services), Elizabeth Magnus Board (Vice President), and Florence Haley (Board President)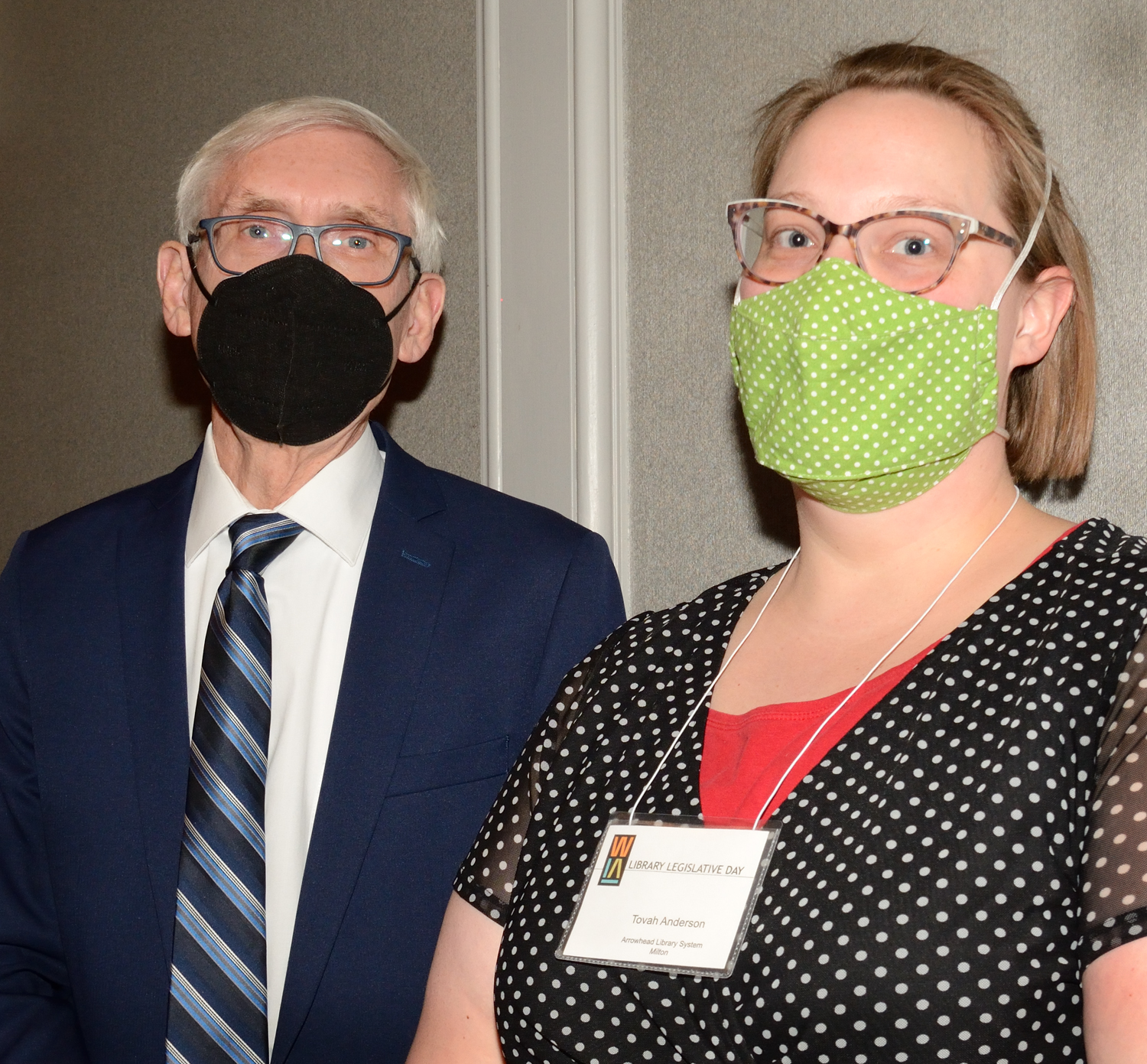 Governor Tony Evers and Arrowhead Library System Public Information Coordinator Tovah Anderson.
Archived Presentation: Welcoming OverDrive Users to Libby
The OverDrive app is no longer available in app stores and current users are now encouraged to transition to the recently improved Libby app.
Did you miss the "Transitioning to Libby: Tips for winding down the OverDrive app and welcoming more readers to Libby" presentation? Have no fear, it's been archived and is available to view at your leisure.
1. REVIEW the recording and PDF
2. VIEW popular questions from Q&A
Please submit your questions or comments to: training@overdrive.com.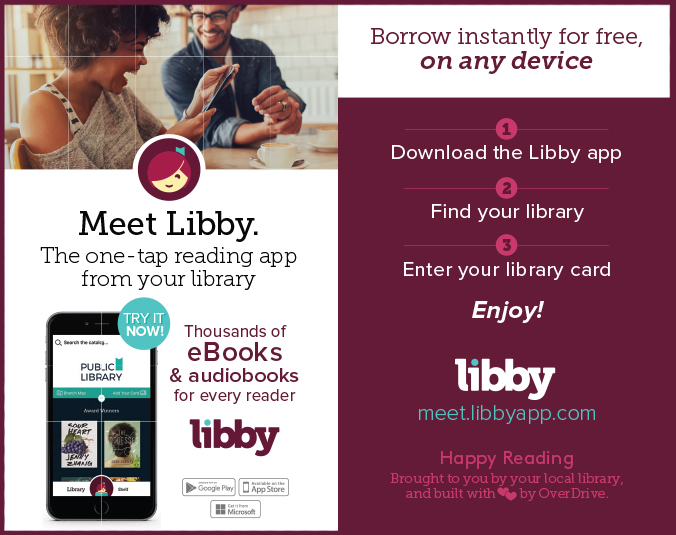 IFLS Presents Advocacy 101 Webinar
IFLS library system hosted an Advocacy 101 webinar. Jim Tripp, who is currently the IFLS Board president and the District 23 Dunn County Board Supervisor (and former high school Civics teacher), discussed the basics of what we need to know to become effective advocates for our libraries. You'll get a brief overview of the three levels of government, and then we'll dig into the key characteristics of good local advocacy: what works and what doesn't. 
Advocacy 101 with Jim Tripp and Rebecca Kilde
Registration for the Biggest Library Event of the Year is Now Open!
Shared from ALA Annual Conference Email | 2.22.2022
We look forward to seeing you in person at the ALA Annual Conference & Exhibition, June 23-28 in Washington, D.C.!
Experience the library world's most dynamic gathering of thought leaders, authors, and celebrity speakers. A chance to reconnect with and learn from your peers, as well as meet exhibitors with top-tier products and services. Check out the preliminary schedule of exciting offerings now!
Your health and safety is our top priority as we prepare for the conference. We're carefully tracking the latest health and safety guidelines for large group gatherings from the CDC, the D.C. Department of Health, and the Walter E. Washington Convention Center. For more information, please view the Annual Conference 2022 Health Protocols.
Register before March 31 for the best savings!