Monthly Memo Newsletter | August 2020
ARROWHEAD LIBRARY SYSTEM NEWS
Monthly Circulation Statistics
Total Circulations in July 2020
Traditional: 68,779

81.5%

81.5%

OverDrive/Libby: 11,618

14%

14%

Hoopla: 3,838

4.5%

4.5%
Career & Job Search Resources
Friday, August 14, 2020 –  The SHARE Consortium announced the launch of Brainfuse – on-demand, anytime, anywhere eLearning for all ages and levels. Brainfuse HelpNow offers personalized homework help in core subjects (math, reading, writing, science, and social studies) including SAT preparation. Brainfuse also includes The Adult Learning Center. Brainfuse is available to all library patrons for free beginning August 14, 2020. Live virtual tutors are available daily from 1:00 PM – 10:00 PM. Download a user's guide here: https://www.als.lib.wi.us/site/wp-content/uploads/2020/08/Brainfuse-HelpNow-User-Guide-Libraries.pdf.
Brainfuse is an online tool and can be accessed from any personal or library computers via the library's website or at https://www.lakeshores.lib.wi.us/brainfuse/login.pl. Log in requires a library card and PIN. 
HelpNow
HelpNow provides differentiated learning solutions for students of diverse needs and backgrounds. Students communicate with live, online tutors using an interactive, virtual whiteboard to chat, write, draw, copy/paste text or images, and graph homework problems. HelpNow also offers skills building and test preparation where after taking a quiz, the user can then connect directly to a live tutor to review the topics and questions covered in the quiz. Both the student and the tutor can view the quiz questions and the corresponding student answers for an intensive test prep which may include loading lessons onto the whiteboard. All live tutoring sessions are saved and can be replayed as well as shared with friends and teachers. 
The Writing Lab and the Send Question Center options give users the freedom to receive assistance at any time of the day without connecting with a live tutor. Users can submit papers through the Writing Lab for detailed feedback. The Send Question Center is for non-writing assignments such as math or science. All reviews and comments from our tutors are found and stored in the Message Center, which is found on the student homepage. For students who prefer to work independently and form their own online study group, HelpNow offers a set of collaborative tools – Meet and Brainwave. Meet allows students to schedule their own online sessions using the Brainfuse Meet whiteboard, which is specifically designed for a group setting. Brainwave is a recordable whiteboard where students can draw, write, and chat and send it to others for feedback. 
Adult Learning Center
Adult Learning Center is the adult learners' version of HelpNow where patrons access GED prep, U.S citizenship test prep, resume assistance, Microsoft Office support, and Career Resources which lists popular job search links. Microsoft Office support allows patrons to ask questions about Excel, Word, and PowerPoint. The Writing Lab, Send Question Center and the Skills Building are also included in the Adult Learning Center suite. 

As libraries and museums around the country begin to resume operations and reopen facilities to the public, there is need for clear information to support the handling of core museum, library, and archival materials.
OCLC, the Institute of Museum and Library Services, and Battelle are conducting research on how long the COVID-19 virus survives on materials that are prevalent in libraries, archives, and museums. The project will draw upon the research to produce authoritative, science-based information on how—or if— materials can be handled to mitigate exposure to staff and visitors.
For the latest results and information on upcoming tests, visit https://www.webjunction.org/explore-topics/COVID-19-research-project.html.
ALA Library Card Sign up Month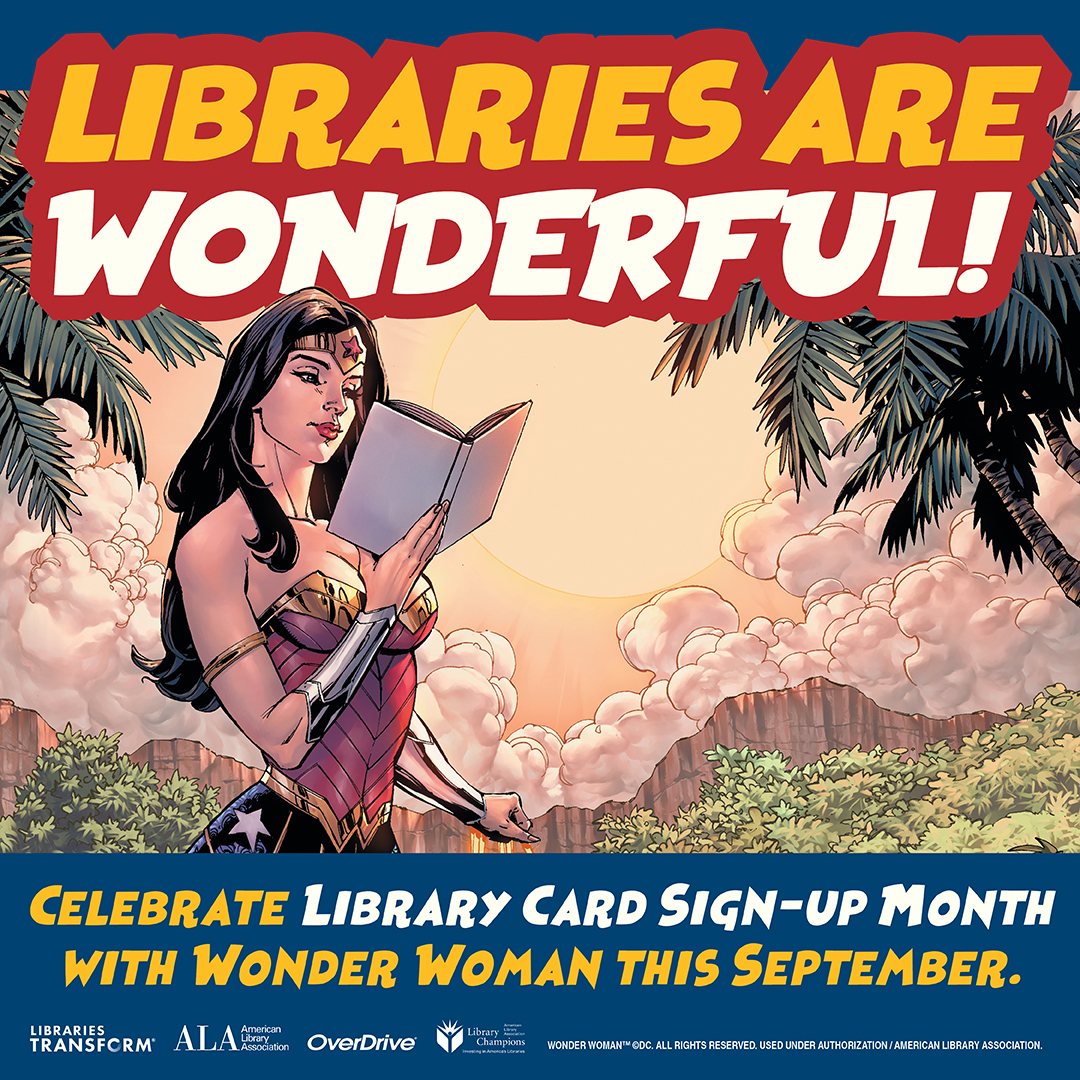 Trustee Training Week 2020 Recordings Available
Did you miss the 2020 Wisconsin Library Trustee Training week presentations? Good news! The recordings are available online at https://www.wistrusteetraining.com/recordings.
This year's sessions were:
Core Values of Librarianship
Recruiting and Engaging Friends
Public Library System Redesign (PLSR) Implementation Update
Equity, Diversity, Inclusion: What Library Trustees Need to Know
Walk the Line: How Trustees Can Best Lead Their Libraries Without Overstepping Their Authority
Marketing Plan Template Now Available
Based on Kathy Dempsey's "Cycle of True Marketing," a state-wide public library system marketing cohort has drafted a marketing plan template that any library of any size can model and adapt. The template includes:
A customizable marketing framework that can be adapted to suit a library's unique needs and community
A sample marketing plan, budget, and calendar guides
Links to resources that expand on the information presented
For more information watch the webinar introducing the marketing plan template, or you can contact Tovah Anderson at anderson.tovah@als.lib.wi.us.
Tech Days 2020 Online, September 23-24

Learn from experts without having to travel — we've transformed this annual event from workshops to webinars!
Tech Days 2020 is a series of 4 webinars over 2 days, and you may register here.
You'll find descriptions of all 4 webinars on the Registration page, where you may sign up for any or all sessions.
When you participate in all four 90-minute sessions of the Tech Days webinar series, you'll earn the same number of tech-related continuing education contact hours as you would from attending one traditional in-person workshop. 
All webinar sessions will be recorded and available at the Tech Days Resources page.
There is no charge to attend Tech Days, thanks to sponsorship by all 16 library systems and the Wisconsin Department of Public Instruction, Public Library Development Team, with funding support from the Institute of Museum and Library Services.
Schedule at a glance:
| | | |
| --- | --- | --- |
| | Wednesday, September 23 | Thursday, September 24 |
| 10 – 11:30am | Technology Training for Non-Techies | Productivity and Technology |
| 11:30am – 1pm | lunch | lunch |
| 1 – 2:30pm | Mind the Gap: How to Navigate Your Way Across the Digital Divide (And Why That Isn't As Easy As It Sounds) | Change is a Constant: Technology, Service, and Constant Change |