608-868-7462 | EMAIL US | 430 E. HIGH ST. MILTON, WI 53563
Sign up for our newsletter!
Library Hours
Monday-Tuesday: 10:00 am to 8:00 pm
Wednesday-Friday: 10:00 am to 6:00 pm
Saturday: 10:00 am to 4:00 pm
Sunday: 1:00 pm to 4:00 pm
Closed in Observance of Memorial Day
Saturday, May 27-Monday, May 29, 2023

OUR VISION
While the conceptual plan below has been adjusted based on engineering and other factors, the overall mission and vision remain the same.
The lessons learned at Story Gardens will promote outdoor recreation and a love and understanding of nature to all those who visit.
The main feature of Story Gardens will be an outdoor programming space where staff will lead Storytimes, classes about horticulture utilizing the raised garden beds around the space, and much more. 
Ramps will be added to the north and south of the space to make it fully accessible. A walking path around the perimeter will connect the two ramps and the front and back parking lots at the library, creating another connection point for walking routes in the City. Art pieces will be incorporated into the space as well as additional gardens, educational spaces, and outdoor exploration stations.
City staff is currently working with the Rock County Chapter of the Ice Age Trail Alliance to create a minor reroute to allow the trail to go through Story Gardens.
When you make a donation to Story Gardens, you play an essential role in developing the space into a unique learning environment for all ages.
If you would like more information about the plans for Story Gardens, please contact Library Director Ashlee Kunkel at (608) 868-7462 or by email at kunkel.ashlee@miltonpubliclibrary.org.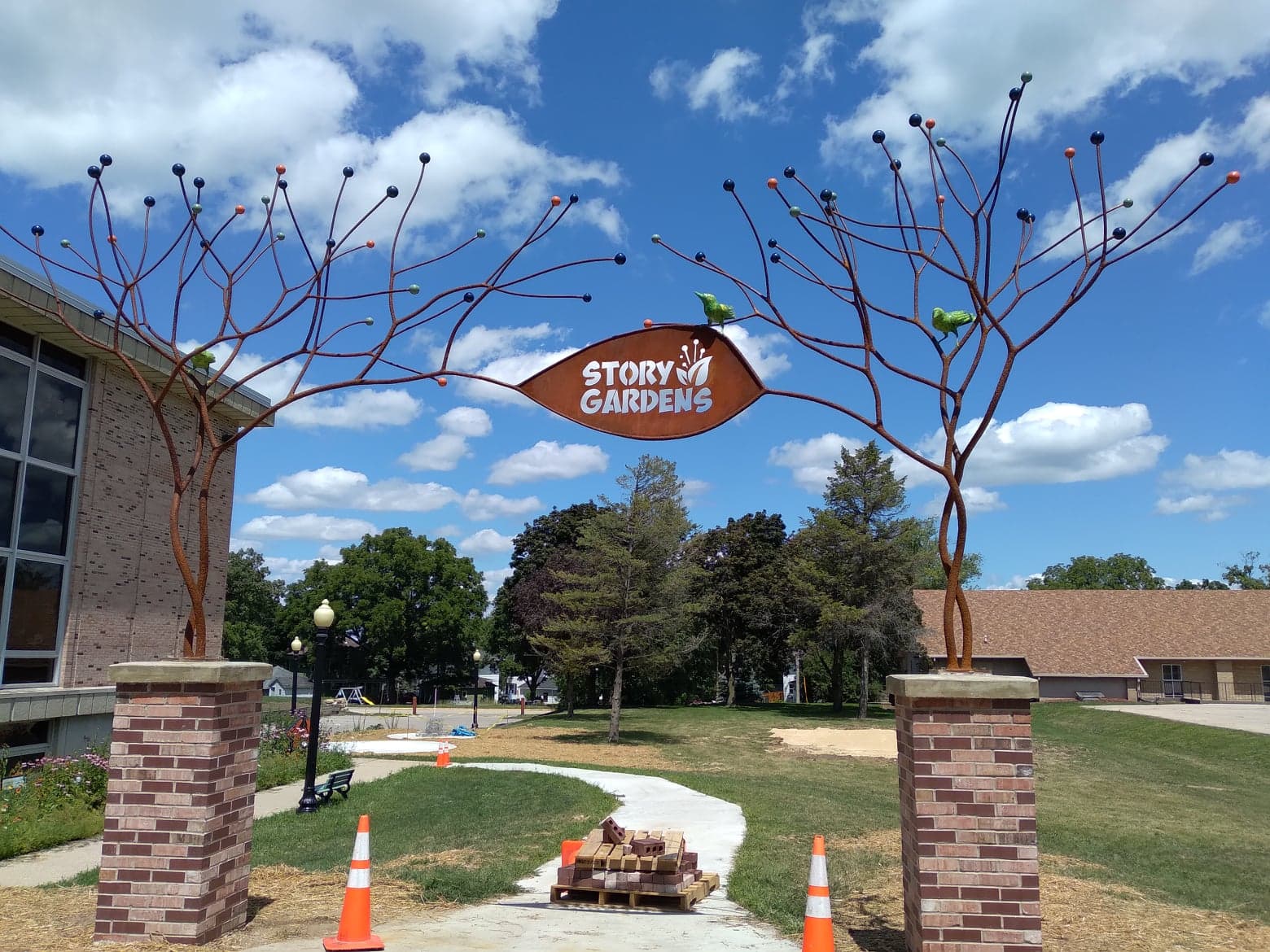 IT'S HERE! The entrance archway created by Brady Lueck. It was sponsored in part by grants from the Milton Fund, a component of the Community Foundation of Southern Wisconsin, and the Wisconsin Arts Board, which includes funds from the State of Wisconsin and the National Endowment for the Arts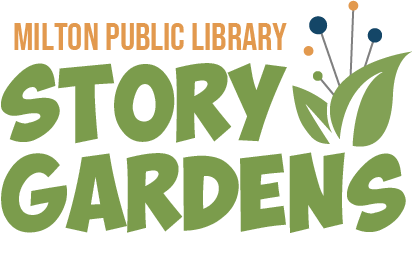 Our Story Garden Mission
"The mission of Story Gardens is to educate and enrich the community through exploration in an outdoor garden. Story Gardens is an open air branch of the library that promotes literacy and life-long learning through its literature-based themes and outdoor library programs.".
The Story Garden is designed for children, families and people of all ages to take part in the biggest story of all; the story of the natural world. Through hands on involvement, together we are growing a living story. Join us.
The Parks & Recreation Commission is working with the Library Board, Library staff, and community volunteers to transform the outdoor space at the Milton Public Library into Story Gardens.
FACILITY & PROGRAMMING
The Milton Public Library, 2018 Wisconsin Library Association's Library of the Year, opened its newly renovated, award-winning, state-of-the-art facility in 2017. The library offered 507 programs with approximately 13,800 attendees in 2019, which included a wide variety of STEAM (Science, Technology, Engineering, Art, and Math) programming for all ages, from toddler to adult. With the addition of Story Gardens, the library's programming can be taken outdoors.
The library staff envision using Story Gardens for interactive, hands-on classes for all ages to explore horticulture, the farm-to-table movement, local plants, pollinators and other bugs, Earth- friendly crafts, recycling, and more. Besides holding library programs such as Storytime, the outdoor programming space will allow staff and community members to provide visitors to the Milton Public Library a wide-variety of entertainment, from music, to plays, to presentations, and more.
The library will also create a special book collection to further supplement the education and knowledge gained from exploring Story Gardens.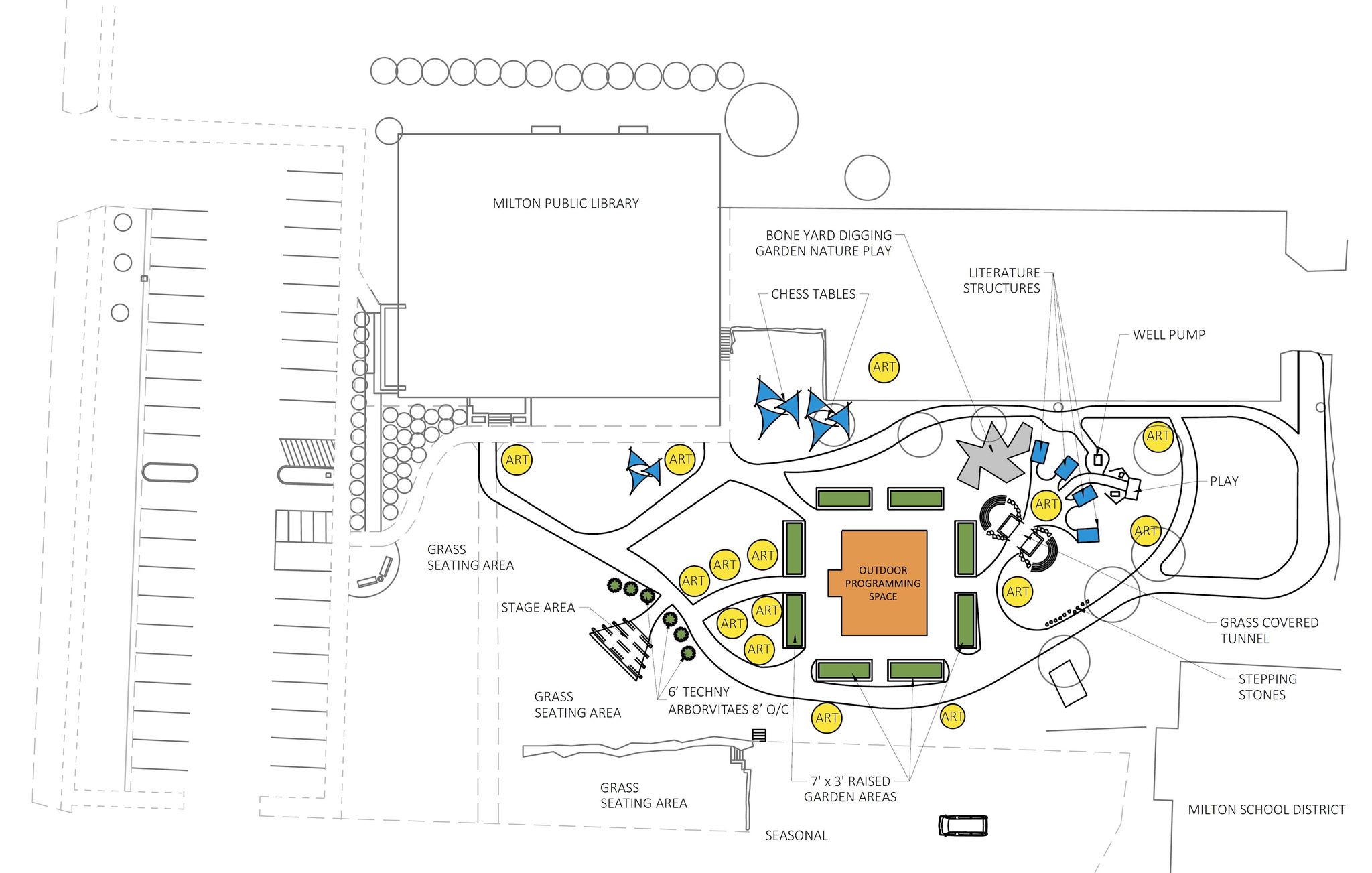 MPL's Story Garden Progress Report
What's happened so far:
The Milton Lion's Club has donated and built 6 raised garden beds, 2 of which will be installed by Summer of 2020. We plan to grow a variety of edible produce as well as colorful plants and flowers that will really add a pop of color to the MPL Story Garden.
Without pollinators, like bees, fireflies, hummingbirds and butterflies, our world would be less diverse and less delicious. Pollinator gardens support and maintain pollinators by supplying food in the form of pollen and nectar that will ensure that these important animals stay in the area to keep pollinating our crops for continued fruit and vegetable production. The library was awarded a GROWMARK Grant for a 700-square-foot pollinator garden! 
Heather Hansen, a Janesville artist and designer, created a large-scale mosaic for our garden, so patrons will have a 

photo op with a set of beautiful butterfly wings behind them.

Plans were purchased for the Gazebo Area, which will be our outdoor programming space.

A ramp was installed, connecting the back parking lot to the grassy area that will feature the Story Gardens. This makes the gardens accessible to everyone.

Connie Bier created and donated a bee mosaic in memory of Linda McGarry for the pollinator garden. 
Junior Girl Scout Troop #7452 donated and built a Kindness Bench with money raised from cookie sales. They also painted and included many kindness rocks to help spread kindness and positivity in the community.
Frank Silha & Sons and Lyons Concrete Construction donated their time and expertise to install a southern ramp to make the Gardens area accesilble to everyone from the library's upper parking lot.
Milton East, Milton West, Harmony, Consolidated, and Northside held a Pennies for Pathways fundraiser the week of April 12-16, 2021, and raised just over $7,200. 
The City of Milton received a $2,000 grant from the Milton Fund, a component of the Community Foundation of Southern Wisconsin, to go towards an arched entryway piece.
The library received a $4,280 grant for the arched entryway piece. This art piece is supported in part by a grant from the Wisconsin Arts Board with funds from the State of Wisconsin and the National Endowment for the Arts. 
The Story Gardens Subcommittee purchased display pieces from Rotary Botanical Garden's very successful The Very Hungry Caterpiller StoryWalk®.
The library received a $5,000 grant from the Green Bay Packers Foundation that will be used to purchase two sets of concrete chess tables, with the remaining funds going towards shade sails.
The library received a $5,000 grant from the American Family Insurance Steve Stricker Foundation that will be used to purchase 18 StoryWalk® stations for the walkway.
Junior Girl Scout Troop #7452 donated $1,000.
Braxton Lopez, with guidance from Barabara and David Bendlin, created a shade garden for his Eagle Scout project. 
With guidance from Jon Sockness and Erin Weberpal of Sockness Builiders, construction began on the outdoor programming space. Jon Sockness and his crew, along with Kevin Ferguson, donated their time and labor. Scott Randall and his students at the Milton High School, along with Kevin and Dalton Shea, installed the metal roof. Additional help was provided by members of the city's Department of Public Works.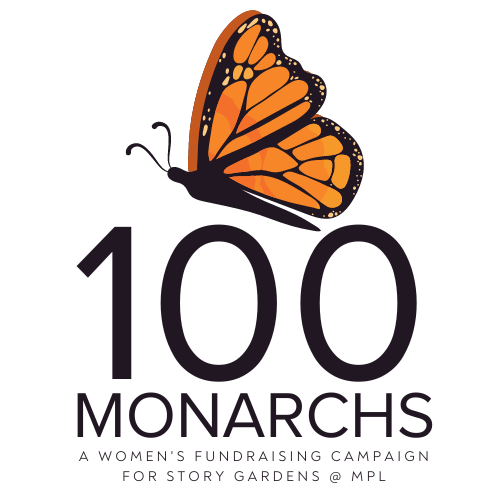 100 Monarchs: A Women's Fundraising Campaign
Over 6 years ago, the library began the journey of fundraising for an expansion and remodel. It was time to create a community space that was reflective of the goals of library staff to create a welcoming, open, creative, and collaborative space for community members of all ages.
The 100 Women Campaign officially kicked off our fundraising efforts. The Milton Public Library started with a handful of women back in 1904 with the Fortnightly Club, and we wanted to embrace that idea again with the library's next big step. And because of over 100 other women, we were able to do so.
Now, we want to continue that succcess with Story Gardens. Your one-time donation of $300 will be recognized in a separate area of Story Gardens and will go towards completing the project. A project that will only add to what the Milton Public Library is already offering the community.
The success of the library's original 100 Women campaign relied on women encouraging other women to be a part of the library's continuous story. If you know of someone who would want to be a part of the Story Gardens' 100 Monarchs chapter, please pass along this opportunity.
Interested? Stop in at the library or fill out this pledge form.
Donation Recognition
All donations are graciously accepted. Donations of $500 or more will be recognized in the gardens where much of the organized programming by Milton Public Library will take place for optimal exposure and recognition. 
Leveled Sponsorship
Payment plan options available upon request.
$1 – $499

$500 – $2,499 Level Sponsor

$2,500 – $4,999 Level Sponsor 

$5,000 – $9,999 Level Sponsor

$10,000 – $14,999 Level Sponsor

$15,000+ Level Sponsor

In-Kind Donation of Material, Equipment, Plants, Labor, etc.


Library Hours
Monday: 10 a.m. to 8 p.m.
Tuesday: 10 a.m. to 8 p.m.
Wednesday: 10 a.m. to 6 p.m.
Thursday: 10 a.m. to 6 p.m.
Friday : 10 a.m. to 6 p.m.
Saturday: 10 a.m. to 4 p.m.
Sunday: 1 p.m. to 4 p.m.