608-868-7462 | EMAIL US | 430 E. HIGH ST. MILTON, WI 53563
Sign up for our newsletter!
Library Hours
Monday-Tuesday: 10:00 am to 8:00 pm
Wednesday-Friday: 10:00 am to 6:00 pm
Saturday: 10:00 am to 4:00 pm
Sunday: 1:00 pm to 4:00 pm

Travel to another part of the world with our Travel with MPL kits! Learn about another country and culture by reading books, movies, cooking, listening to music, and playing games! We hope that you are able to reminice about places you have traveled, plan a trip for yourself, learn about another culture, or simple escape to another place from the comfort of your home.
Funded in part by a grant from Wisconsin Humanities, with funds from the National Endowment for the Humanities. Wisconsin Humanities strengthens our democracy through educational and cultural programs that build connections and understanding among people of all backgrounds and beliefs throughout the state.
Any views, findings, conclusions, or recommendations expressed in this project do not necessarily represent those of the National Endowment for the Humanities.
Each kit has a 3-week checkout period.
Call the library at 608-868-7462 or log on to SHARE to place a kit on hold!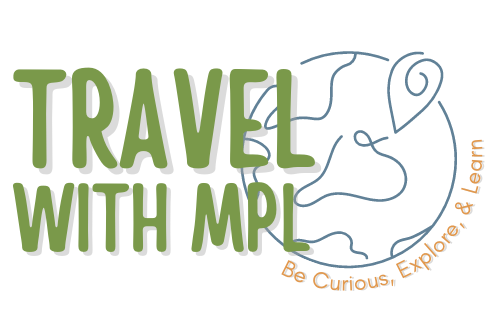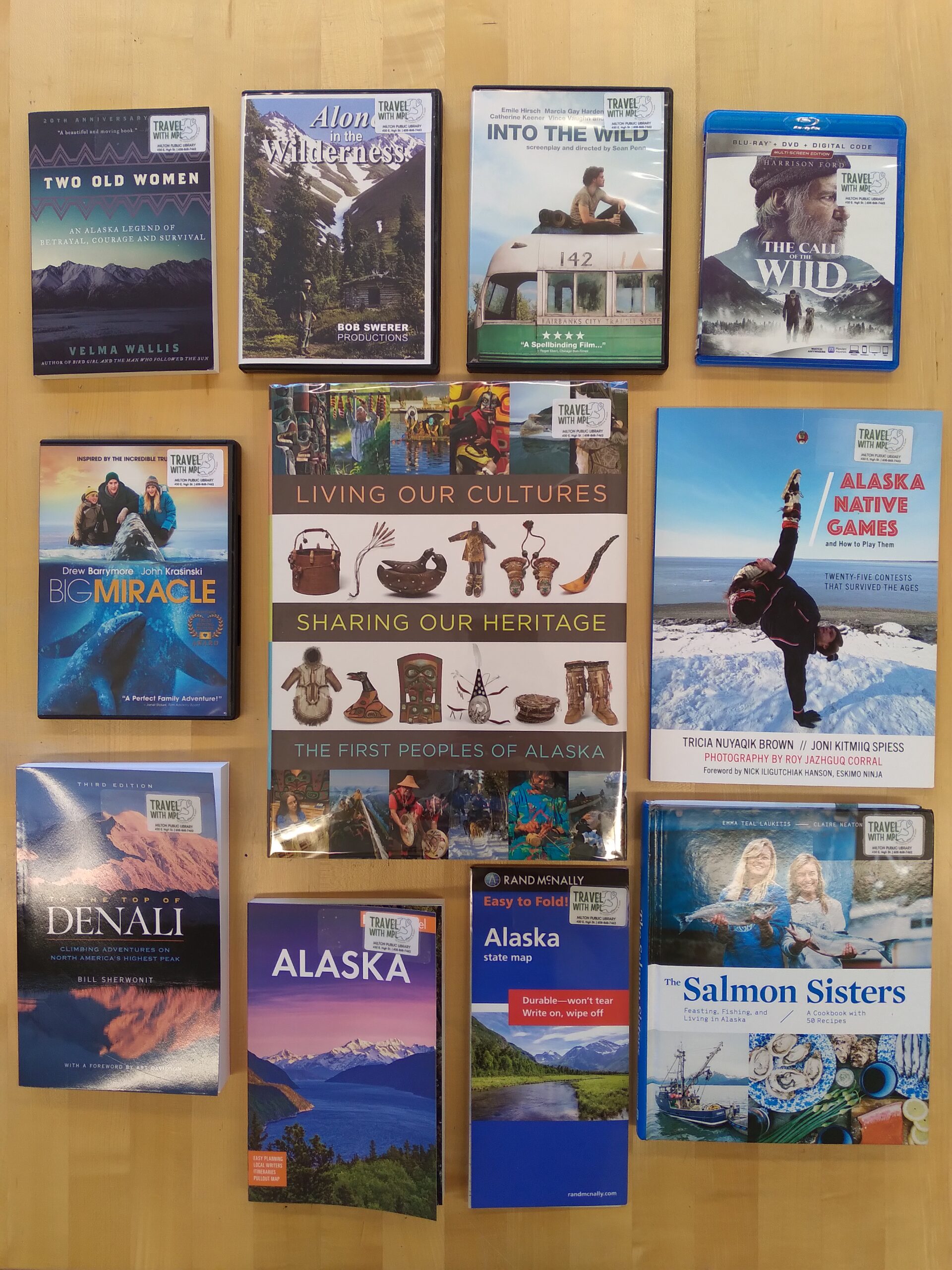 Alaska Map
Fodor's Alaska
Call of the Wild DVD
Big Miracle DVD
Into the Wild DVD
Alone in the Wilderness DVD
To the Top of Denali, by Bill Sherwonit
The Salmon Sisters: Fishing, Feasting and Living in Alaska, by Claire Neaton and Emma Teal Laukitis
Living Our Cultures, Sharing Our Heritage: The First Peoples of Alaska, by Smithsonian Books
Two Old Women: An Alaska Legend of Betrayal, Courage and Survival, by Velma Wallis
Alaska Native Games and How to Play Them, by Tricia Nuyaqik Brown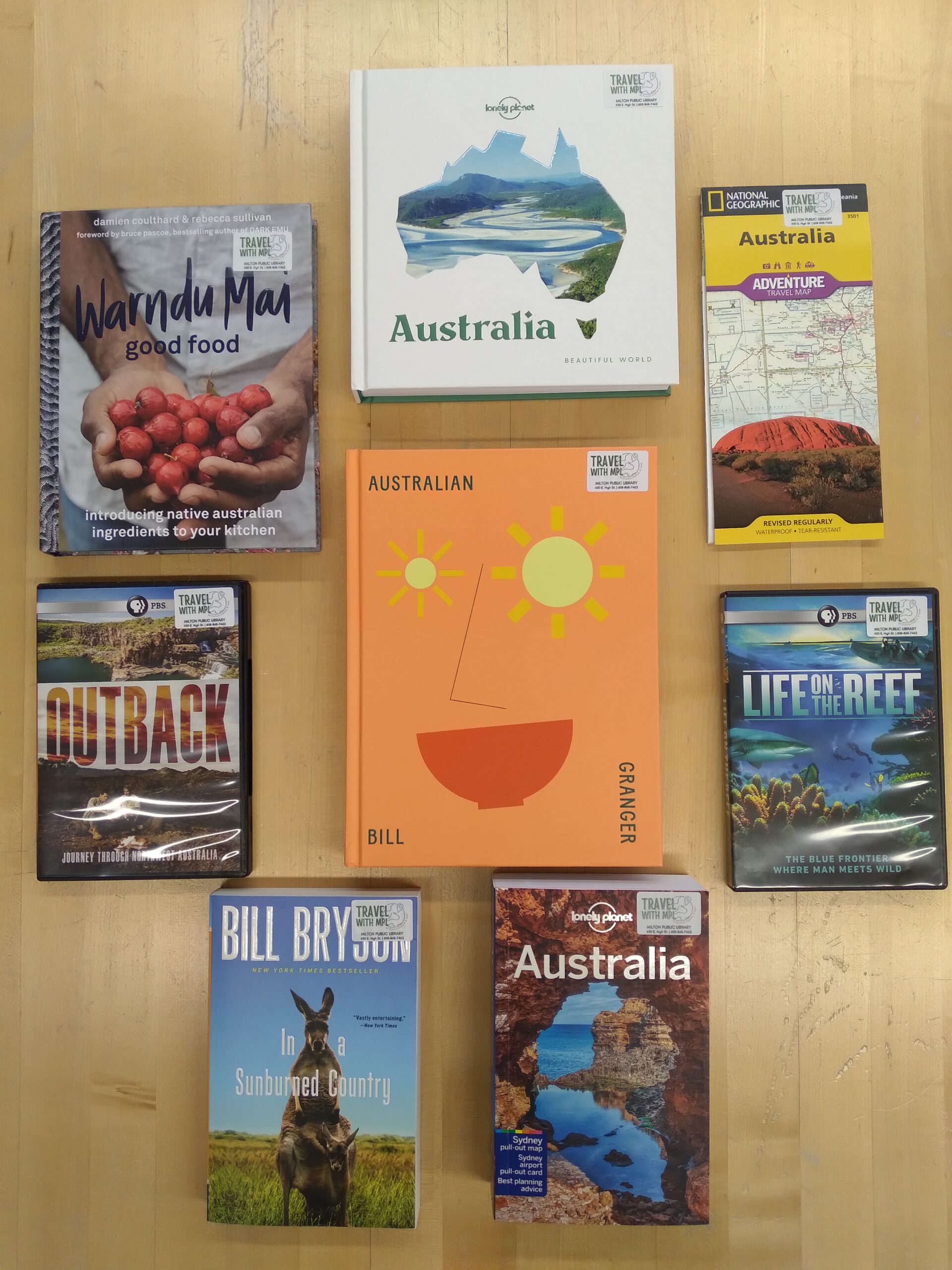 Australia Map
Lonely Planet Australia
In a Sunburned Country, by Bill Bryson
Warndu Mai Good Food, by Damien Couthard & Rebecca Sullivan
Australian Food, by Bill Granger
Beautiful World Australia, by Lonely Planet
The Outback DVD
Life on the Reef DVD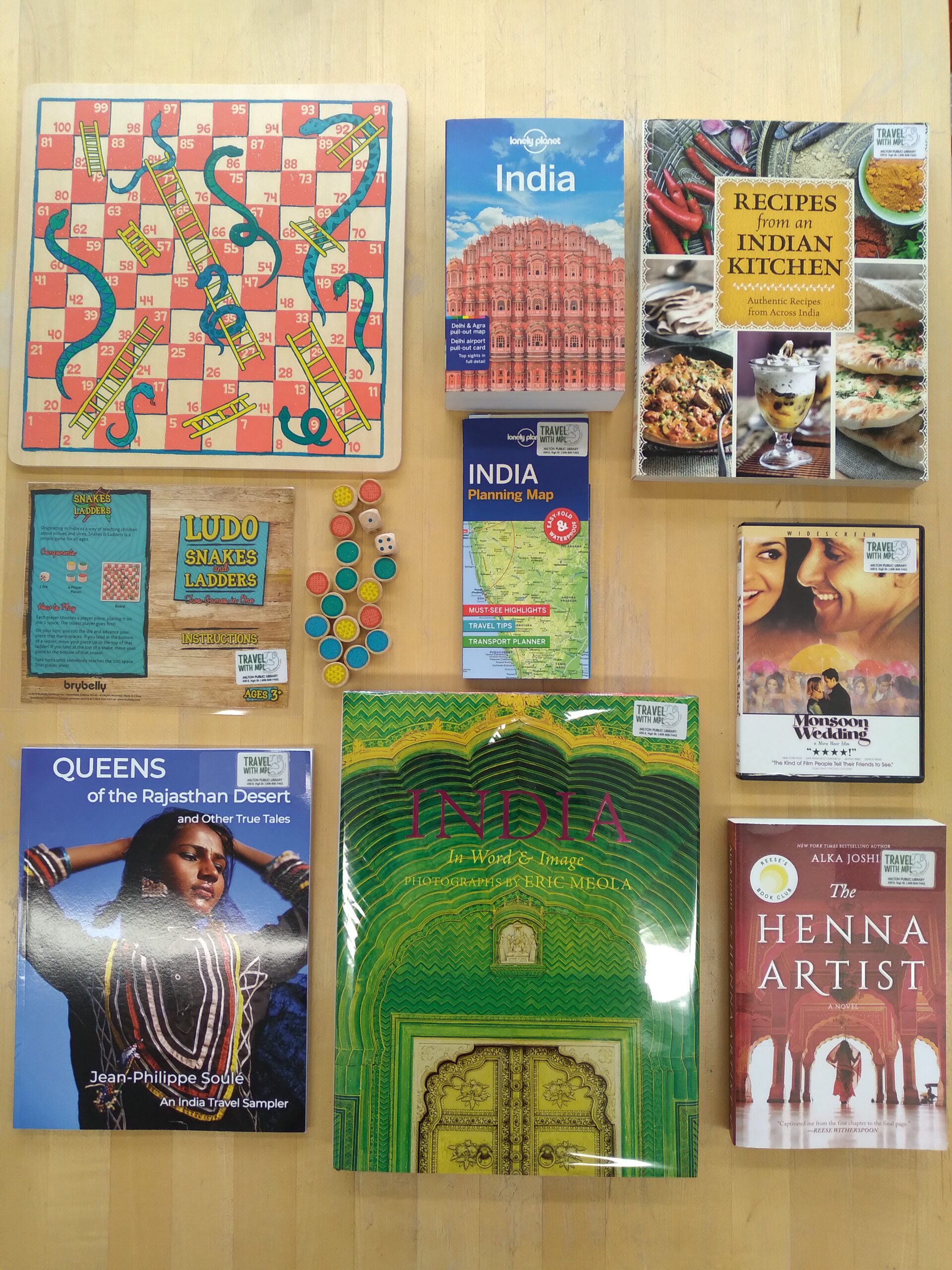 India Map
Lonely Planet India Travel Guide
The Henna Artist, by Alka Joshi
Recipes from an Indian Kitchen: Authentic Recipes from Across India, by Manju Malhi
Queens of the Rajasthan Desert and Other True Tales: An India Travel Sampler, by Jean-Philippe Soulé
India: In Word and Image, by Eric Meola
Monsoon Wedding DVD
 Ludo & Snakes and Ladders Board Game

Game Includes:

1 wooden board
1 instruction sheet
2 wooden die
16 wooden play pieces (four each of yellow, red, blue, and cyan)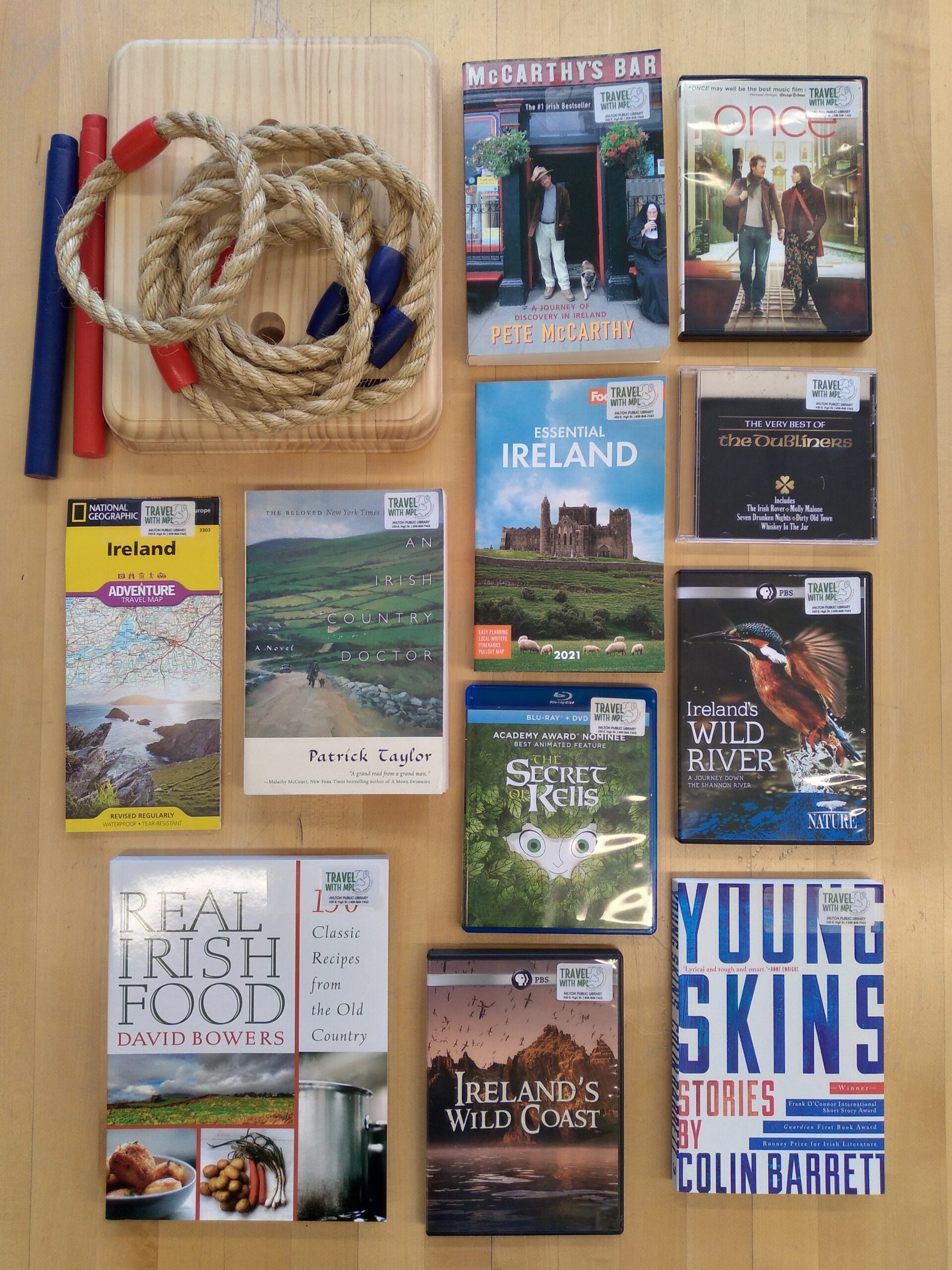 Ireland Map
Fodor's Essential Ireland 2021: with Belfast and Northern Ireland
The Very Best Of The Dubliners Music CD
Real Irish Food: 150 Classic Recipes from the Old Country, by David Bowers
An Irish Country Doctor: A Novel, by Patrick Taylor
McCarthy's Bar: A Journey of Discovery In Ireland, by Pete McCarthy
Young Skins: Stories, by Colin Barrett
Secret of the Kells DVD/Blueray
Ireland's Wild Coast DVD
Ireland's Wild River DVD
Once DVD
Wooden Quoit Set

Set Includes:

3 red rope toss rings
3 blue rope toss rings
2 wooden bases
2 wooden pins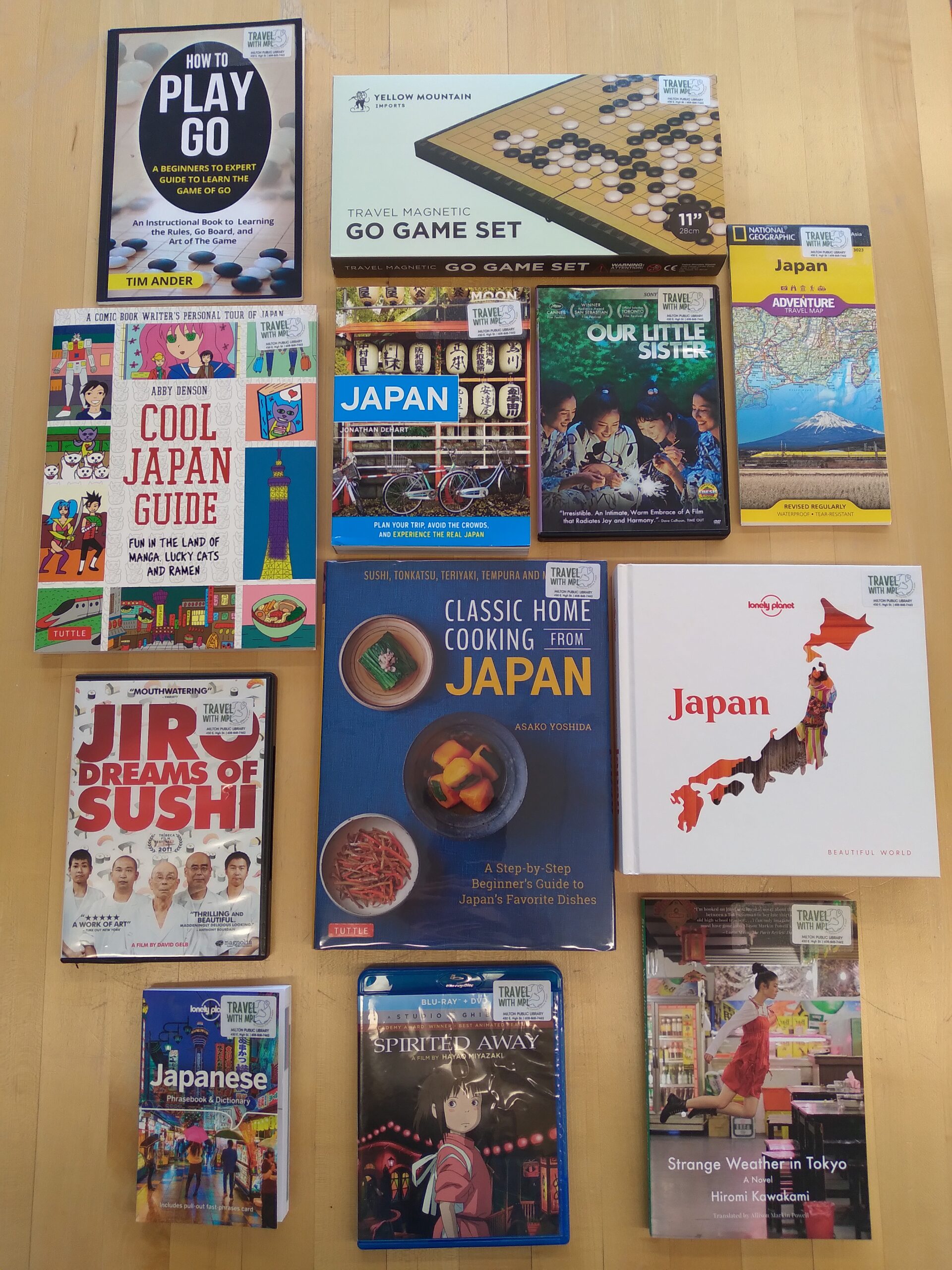 Japan Map
Lonely Planet Japanese Phrasebook & Dictionary
Moon Japan
Cool Japan Guide: Fun in the Land of Manga, Lucky Cats and Ramen, by Abby Denson
Strange Weather in Tokyo, by Hiromi Kawakami
Classic Home Cooking Japan, by Asako Yoshida
Beautiful World Japan, by Lonely Planet
Jiro Dreams of Sushi DVD
Spirited Away DVD
Our Little Sister DVD
How to Play Go, by Tim Ander
Magnetic GO Game Set

Set Includes:

Go board
181 black magnetic stones & 180 white magnetic stones
2 Go bowls with lids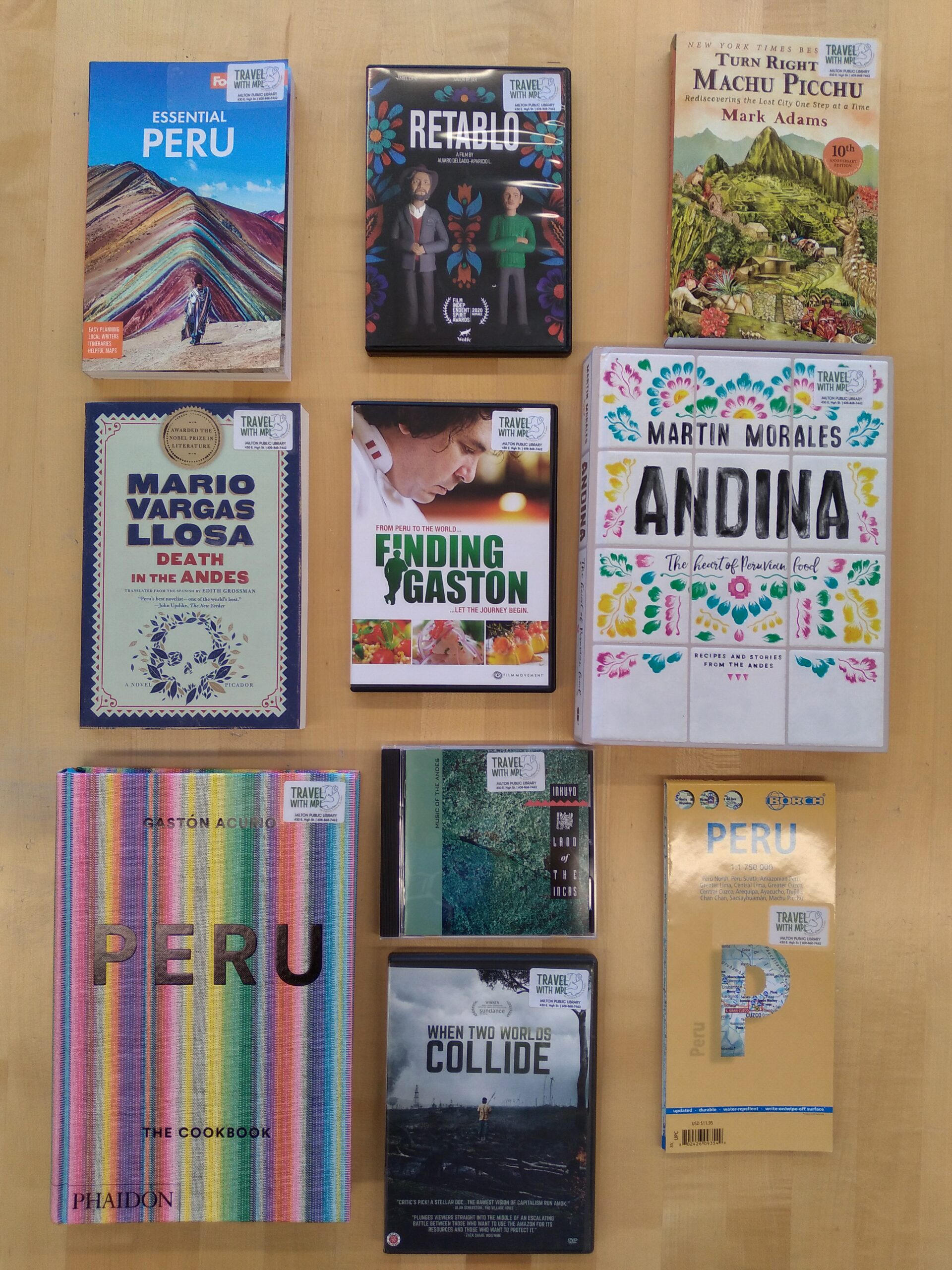 Peru Map
Fodor's Essential Peru
Turn Right at Machu Picchu, by Mark Adams
Death in the Andes, by Mario Vargas Llosa
Andina: The Heart of Peruvian Food: Recipes and Stories from the Andes, by Martin Morales
Peru: The Cookbook, by Gastón Acurio
Finding GastonF DVD
When Two Worlds Collide DVD
Retalbo DVD
Land of the Incas-Music of the Andes CD

Library Hours
Monday: 10 a.m. to 8 p.m.
Tuesday: 10 a.m. to 8 p.m.
Wednesday: 10 a.m. to 6 p.m.
Thursday: 10 a.m. to 6 p.m.
Friday : 10 a.m. to 6 p.m.
Saturday: 10 a.m. to 4 p.m.
Sunday: 1 p.m. to 4 p.m.
Last Updated on December 21, 2022.